"Why don't you pack up your shit and head back to Fuckheadistan!"
Even though 2013's Olympus Has Fallen did not exactly set the box office on fire, it performed respectably against its modest budget, and money is money in the filmmaking industry. Not to mention, Olympus prevailed as the more successful "Die Hard in the White House" production, grossing more than Roland Emmerich's White House Down. Ditching director Antoine Fuqua in favour of lesser-known filmmaker Babak Najafi, but retaining much of the original cast, 2016's London Has Fallen stands as a worthy follow-up that should effortlessly entertain those who enjoy these types of blockbusters. It's a visceral, hard-edged action flick which preserves its predecessor's R rating, allowing for salty one-liners and brutal violence. North Koreans were the villains in the first film due to political conflicts at the time, but with the world now under threat from ISIL, Islamic terrorist bad guys were the obvious, timely choice here.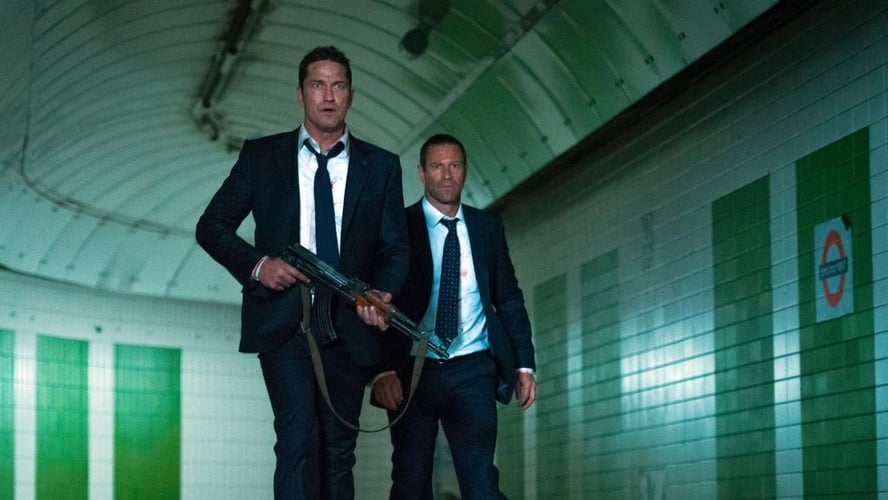 Two years after saving the life of President Asher (Aaron Eckhart), Secret Service Agent Mike Banning (Gerard Butler) is expecting a baby, and considers resigning in order to live peacefully with his wife Leah (Radha Mitchell). When the British Prime Minister suddenly dies, world leaders beginning converging on London for the funeral, with Banning assigned to watch over Asher during the trip. However, an Islamic terrorist cell overseen by Kamran Barkawi (Waleed Zuaiter) take the opportunity to strike, launching a terror attack in the middle of London with the ultimate goal in mind of broadcasting the beheading of President Asher on the internet. But Banning has other plans, seeking to safely escort Asher out of the city and overthrow Kamran's forces while endeavouring to contact Vice President Trumbull (Morgan Freeman), who's watching over the situation in Washington with his excitable staff (including Jackie Earle Haley and Robert Forster).
London Has Fallen has stirred up controversy online, with some calling the movie insensitive in the wake of horrific terrorist activities in recent years (specifically the 2016 Paris shootings), while others have dismissed the actioner as pure American propaganda. Yeah, it's silly, and its gung-ho attitude won't sit right with everybody, but I'll be damned if it doesn't work. London brings back Olympus scribes Creighton Rothenberger and Katrin Benedikt, while the script is also credited to Christian Gudegast and Chad St. John, though it's difficult to ascertain exactly why it took four people to write a feature as simple as this.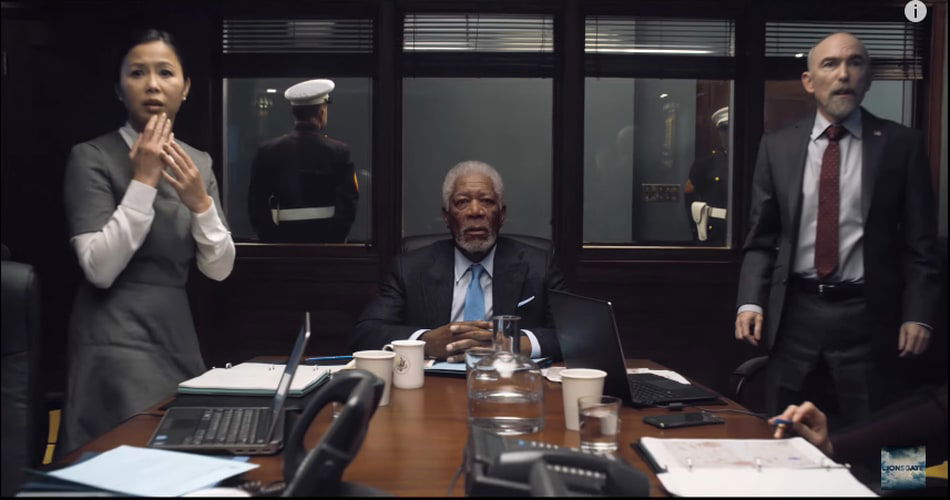 Once the threat is established and the initial strike has taken place, London transforms into a chase movie, following Banning and Asher as they traverse the perilous London streets, trying to survive as they encounter scores of nameless bad guys. Whereas Olympus was all about Banning rescuing the President from a hostage situation, this follow-up is more of a buddy movie, with Asher remaining at his protector's side for the majority of the runtime. It's a lean actioner at around 95 minutes in length, and it really moves, breathlessly transitioning from one conflict to the next, pausing for just enough chatter to keep the story comprehensible. Dialogue is standard-order and often tin-eared, though Banning does disperse a number of amusing John McClane-esque one-liners. If you can overlook the rampant ridiculousness of the enterprise, there's plenty to enjoy here.
Taken as a simple, fictitious action flick, London Has Fallen works extremely well, playing out with the same zeal and spirit as a 1980s Cannon Films production. Rather than superhero antics or over-the-top mayhem, the movie favours good old-fashioned shootouts, car chases and fisticuffs, and it sports stronger production values than a typical straight-to-video outing (the actors actually shoot real blanks, and practical blood squibs are used, which is miraculous). Happily, the chaos is captured with lucid camerawork, allowing us to watch and enjoy it. Yeah, the cinematography is shaky to an extent, but the camerawork is never distracting, and it adds to the feeling of excitement. There's even an adrenaline-pumping shootout in a dark alley which unfolds in a bravura single shot for some welcome variety. The only real downside to London is the shoddy CGI, which often looks incredibly phoney and instantly takes you out of the movie. Mercifully, however, the fake digital mayhem is not constant, limited to only a few moments during the initial assault, so it doesn't constantly sour the experience.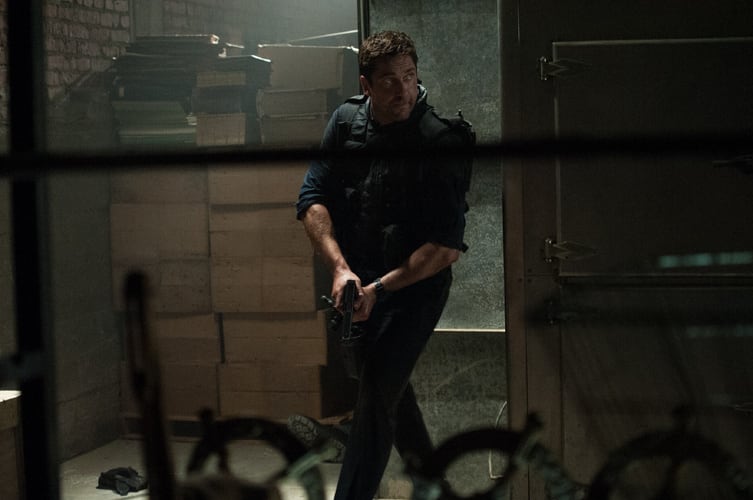 Butler is an appealing, macho leading man, espousing the same type of attitude that was so prevalent in '80s action heroes. It would be easy to imagine Butler doing more action movies in this vein, joining the still-tiny list of modern actors capable of playing these sorts of roles. Just like John McClane in the Die Hard series, Banning approaches each conflict with a nonchalant attitude, and he always finds time for quips (he tells Asher that he was made out of "bourbon and poor choices"). Several other veteran thespians also appear here; Eckhart is an amiable President, and it's always nice to see Morgan Freeman. Other names include Angela Bassett, Melissa Leo and Jackie Earle Haley, all of whom seem to be having a good time.
It's hard to defend London Has Fallen beyond the level of guilty pleasure, since it is absurd and chock full of action movie clichés. In short, it's tailor-made for viewers who get a kick out of this brand of old-fashioned ludicrousness, and it was not intended for the more serious or stuffy class of movie-watcher. It's not exactly polished, but its rough-around-the-edges sensibilities do contribute to the charm to a certain extent. If you enjoyed Olympus Has Fallen, there's a good chance you'll have a fun time with this one.
7.1/10