"We've been talking about moving somewhere safer for Dennis..."
Despite Adam Sandler's shonky track record, Hotel Transylvania developed into an unexpected hit all the way back in 2012, and was a highly enjoyable animated endeavour to boot. A child-friendly adventure with enough entertainment to offer the adult demographic, the movie took many classic Universal horror characters - including Count Dracula, Frankenstein's Monster, the Wolfman, the Mummy, etc. - and turned them into homogenised protagonists, generating a rich comedic world ripe to further exploit in any sequels. Luckily, 2015's Hotel Transylvania 2 retains many of the qualities which made its predecessor such a treat, and it's once again overseen by animation veteran Genndy Tartakovsky. Even though storytelling is scattershot, it's an entertaining follow-up that will almost certainly please children, especially if the first Hotel Transylvania was to their liking.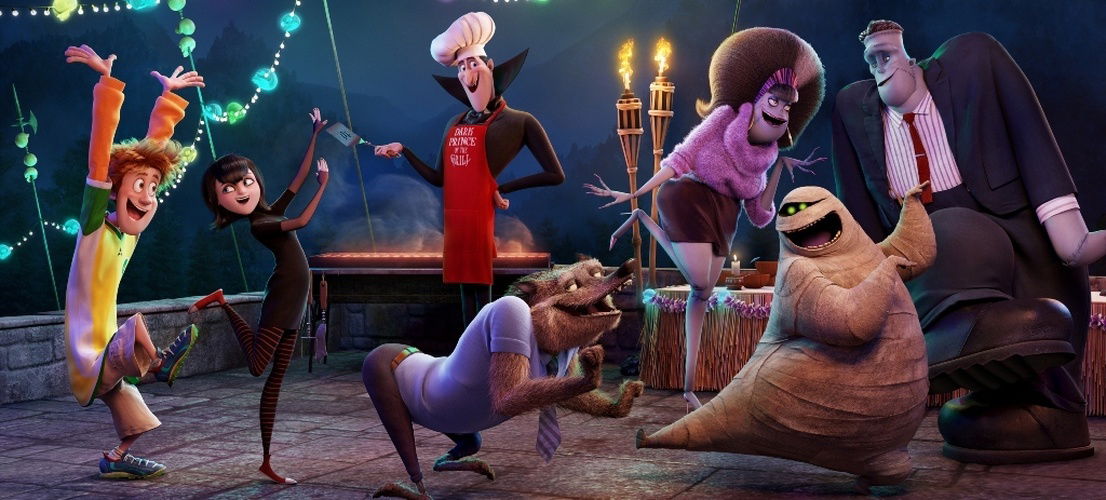 Soon after the events of the original film, human Jonathan (Andy Samberg) and vampire Mavis (Selena Gomez) get married, and the new bride finds herself pregnant, much to the excitement of her father, Dracula (Adam Sandler). However, the boy, Dennis (Asher Blinkoff), seems to favour his human side, much to the dismay of Dracula, who wants his grandson to follow in his footsteps and become a true bloodsucker. In addition, Dracula is further disheartened by the prospect of Jonathan and Mavis moving to California to raise Dennis as a regular human tyke. Approaching Dennis' fifth birthday, Dracula persuades Jonathan to take Mavis on a trip to visit his parents (Megan Mullally and Nick Offerman), under the guise of giving the couple a break from the rigours of parenthood. Meanwhile, Dracula secretly enlists the help of his monster pals - Frankenstein's Monster (Kevin James), werewolf Wayne (Steve Buscemi), invisible man Griffin (David Spade), mummy Murray (Keegan-Michael Key), and Blobby (Jonny Solomon) - to hopefully awaken Dennis' vampire gene and show the boy the ways of monster life.
Written by Sandler and Robert Smigel, Hotel Transylvania 2 is quick to introduce Dennis in the first act before rushing through the tyke's first few years to reach his fifth birthday. Since the first flick was so small-scale and confined, this sequel is keen to leave the titular resort, briskly setting up the plot to allow for monkey (monster?) business outside the hotel's walls. However, the script doesn't quite know when to quit in terms of plot, leading to the third-act development involving the introduction of Dracula's father, Vlad (the legendary Mel Brooks), that probably should have been saved for another sequel. Still, Hotel Transylvania 2 remains joyous through to the finish line, and though it's not as poignant or as thoughtful as a typical Pixar feature, it does have a few things on its mind about the dangers of narrow-minded prejudice, and the importance of tolerance and acceptance. This is still a fluffy comedy by and large, but such subtext does provide a worthwhile lesson for the children in the audience.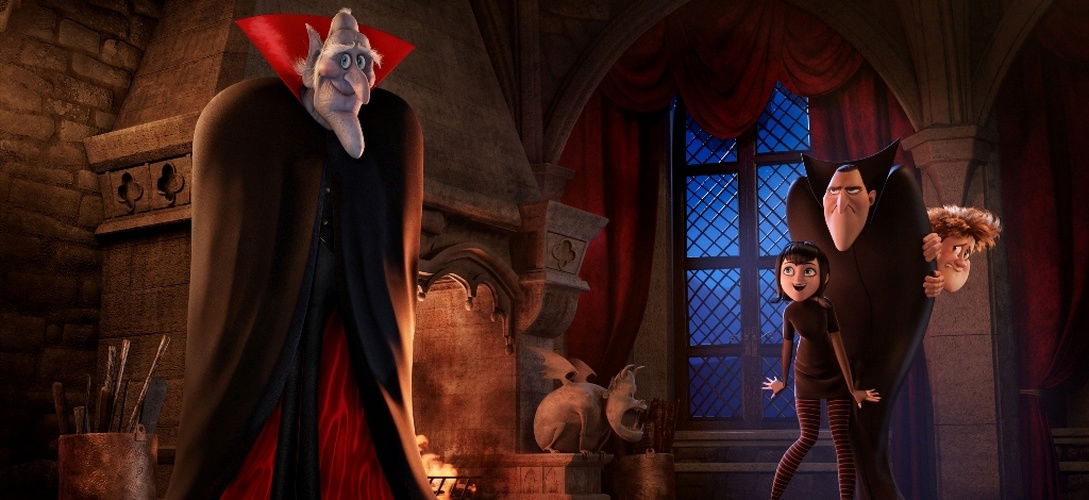 Sumptuously animated by the folks at Sony, Hotel Transylvania 2 has an ace up its sleeve in director Tartakovsky, who also worked on television shows like The Powerpuff Girls and Star Wars: Clone Wars. Tartakovsky has a nice eye and ear for comedy, gifting the production with plenty of amusing slapstick and sharp one-liners, preserving a light-hearted, goofy spirit which keeps the proceedings entertaining even when the storytelling is at its rockiest. With two parallel storylines (one concerning Mavis and Jonathan in California, another about Dracula and Dennis), the film stays fresh, allowing for a wider scope and more opportunities for amusing situations and hilarious jokes. Plus, the actors all commit to the material wonderfully, with Sandler again showing that he's probably better-suited for animation than live-action at this point in his career. Further colour is provided by Brooks, who relishes the chance to voice a goofy vampire, while the likes of Samberg, James, Buscemi and Spade all hit their marks. Also notable are real-life married couple Offerman and Mullally as Jonathan's parents - their trademark personalities are a perfect fit for their respective characters.
Disappointingly, Hotel Transylvania 2 is loaded with product placement; the characters all use smartphones with a very prominent Sony logo, for instance, and there's even some erroneous pop music which comes across as forced. Nevertheless, this is a fun, goofy, simplistic cartoon which goes down easily enough, and it compensates for its narrative shortcomings and other flaws by providing a steady stream of side-splitting gags. And considering the dirge that Sandler has headlined lately, the fact that it's actually funny is a huge deal.
6.8/10