Celebrated horror author Stephen King has written many novels that have been adapted for the big screen, but he has also penned over two-hundred short stories, a number of which have been compiled into book collections. Following in the shadow of the horror anthology
Creepshow
, 1985's
Cat's Eye
is a 94-minute collection of three Stephen King short stories - the first two of which were previously published in the "Night Shift" collection, while the third is an original tale written by King directly for the big screen. The stories all involve different characters, but are linked by the appearance of a special tabby cat, while Drew Barrymore also appears in multiple roles throughout. Directed by Lewis Teague,
Cat's Eye
may not be especially scary or creepy, but it does have its tense moments and the stories are backed by creative concepts.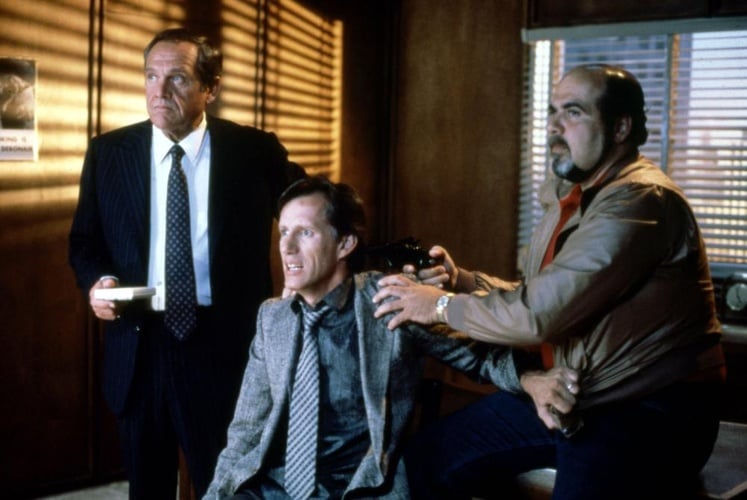 In New York City, Dick Morrison (James Woods) is desperate to quit smoking, and signs up to a smoking prevention course overseen by the unscrupulous Vinny Donatti (Alan King). But the company employs unconventional methods to help clients kick their smoking habit, including intimidation and torture. Donatti's associates begin spying on Morrison around the clock, and one little slip-up will be met with dire consequences. A tomcat is being held by Quitters Inc., and once it escapes, it rides the Staten Island Ferry across to Atlantic City where he's taken in by crime boss Cressner (Kenneth McMillan). Cressner orders the kidnapping of former tennis pro Johnny Norris (Robert Hays), who's involved with Cressner's wife and plans to leave town with her. Cressner blackmails Norris, forcing him to walk around the narrow ledge of his high-rise penthouse apartment in exchange for his freedom. If Norris refuses, he will be arrested for the drugs that have been planted in his car. The tabby cat manages to escape again, hopping aboard a freight train to North Carolina where he's adopted by young Amanda (Barrymore), who affectionately names him "General." While Amanda is instantly enamoured with the stray cat, her mother (Patricia Kalember) is more reluctant. However, a nasty troll lives in Amanda's wall that's intent on stealing her breath as she sleeps, and General could be the only one able to protect her.
With King having written the screenplay for
Cat's Eye
, there are several references to his other works - both the Saint Bernard dog from
Cujo
and the car from
Christine
are given cameos, while
The Dead Zone
plays on television at one point, and a character is seen reading the novel
Pet Sematary
. As previously stated, the picture is not as frightening as King's reputation might suggest - it's certainly less bloody than the likes of
Creepshow
or the 1983 movie adaptation of
Cujo
, which was also directed by Teague. All the segments feel more like
Twilight Zone
stories, really. Since this is an anthology and each tale only runs for roughly half an hour each, the movie is kept fresh and interesting throughout, and there's no filler in each of the segments. To be sure, it's more rewarding to see a feature-length story with more room to breathe, and with sufficient time for the characters to become rich and three-dimensional, but
Cat's Eye
is still entertaining all the same, even if it doesn't reach the dizzying heights of King's best motion pictures.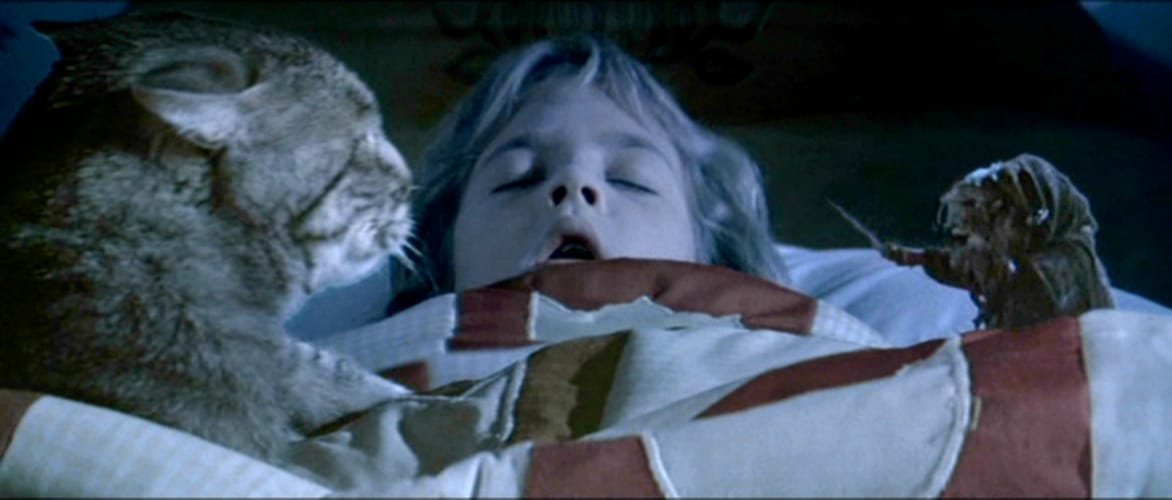 Those expecting white-knuckle horror are going to be disappointed, but the second story - "The Ledge" - is noticeably intense. The extended sequence of Norris outside on the narrow ledge is armrest-clenching at times, though it's still not exactly "horror." Meanwhile, the first segment - "Quitters Inc." - introduces themes of paranoia to nice effect, and the final story - "General" - plays out more along the lines of Gremlins. Indeed, "General" is an overly silly horror romp, but the final showdown between the troll and the cat is both exciting and fun. Admittedly, not all of the special effects shots throughout Cat's Eye stand up to contemporary scrutiny, with some noticeably shoddy blue-screen and compositing effects, but for the most part the illusion holds up well enough. The movie also features an idiosyncratically cheesy '80s synth score courtesy of Alan Silvestri (Predator, Back to the Future), which definitely dates the movie to a certain degree, enjoyable though it may be.
On its own terms, Cat's Eye is a fun enough cult curiosity, especially given King's involvement and the selection of actors filling out the ensemble. Woods submits a particularly solid performance, while Barrymore is just right as an endearing little girl. Hell, even the central tabby cat is convincing - in fact, the cat's near-misses with several cars beg the question about animal protection standards for 1980s filmmaking. Cat's Eye is not must-see by any stretch, and I wish it was scarier, but it's endearing schlock nevertheless.
6.4/10