Adapted from the 1978 non-fiction novel of the same name by journalist Christopher Robbins,
Air America
strives to be both an anti-war political drama as well as an action-comedy, but it never quite comes together in any meaningful way. The film was helmed by director Roger Spottiswoode, who cut his teeth editing Sam Peckinpah movies (including
Straw Dogs
) and went on to direct the James Bond adventure
Tomorrow Never Dies
. Unfortunately, the director struggles with tone throughout
Air America
- Spottiswoode and co. visibly strived to recreate the success of other military comedies like 1987's
Good Morning, Vietnam
, but the film lacks the spark of wittiness and personality to achieve this, even though it's certainly a handsomely-mounted action-adventure.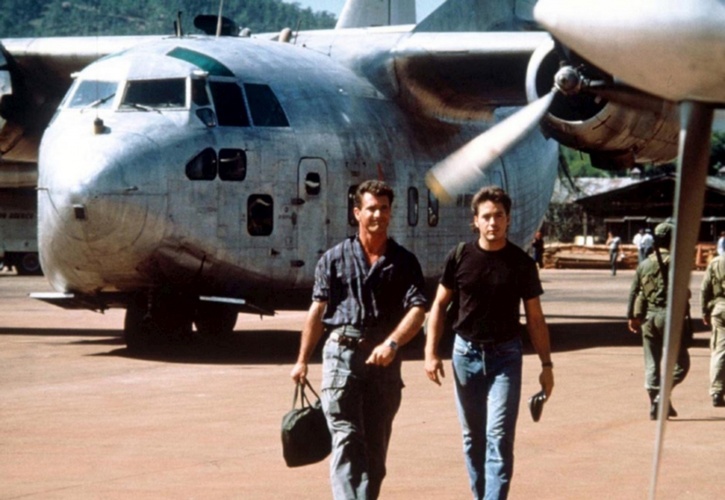 After losing his pilot license as a result of a low-flying stunt, Billy (Robert Downey Jr.) finds a chance to redeem himself by joining the "Air America" team in Laos during the Vietnam War. A covert operation overseen by the CIA, Air America pilots are tasked with delivering supplies, weapons and drugs to the area, while the American government denies any involvement with such endeavours. Taking to the bumpy skies, Billy is paired up with ace pilot Gene Ryack (Mel Gibson), who has a plan for his retirement: buy a cache of illegal weaponry from his brother-in-law, and sell it to the highest bidder. However, Billy grows weary of the criminal activities with which he is now involved, subsequently clashing with Gene. Meanwhile, United States Senator Davenport (Lane Smith) arrives in Laos for a "fact-finding" mission to investigate drug-running rumours. The CIA leaders of Air America rendezvous with the Senator, aiming to deceive him and hide Air America's illegal activities.
Since
Air America
was produced by Carolco Pictures and carried a hefty $35 million price-tag, it's certainly pretty to look at, making great use of the marvellous Thai locations and featuring competent photography courtesy of master cinematographer Roger Deakins. It's refreshing to see practical effects and real planes being used on-screen as well, and the action beats and aerial gymnastics do manage to temporarily raise the pulse. You certainly cannot fault the production values, as
Air America
looks professionally-produced right across the board. Nevertheless, it does run too long at about 110 minutes, and though the story is clear enough, the movie meanders as there's not much life between the plot points. There is a pleasant plot detour in which Billy meets Gene's family and gets to see his humble home, but there simply isn't enough personality on-screen, and Spottiswoode is incapable of creating genuine narrative momentum. With the story playing out robotically, and with Spottiswoode's hit-and-miss pacing, there's not much replay value and the whole thing is both forgettable and humdrum.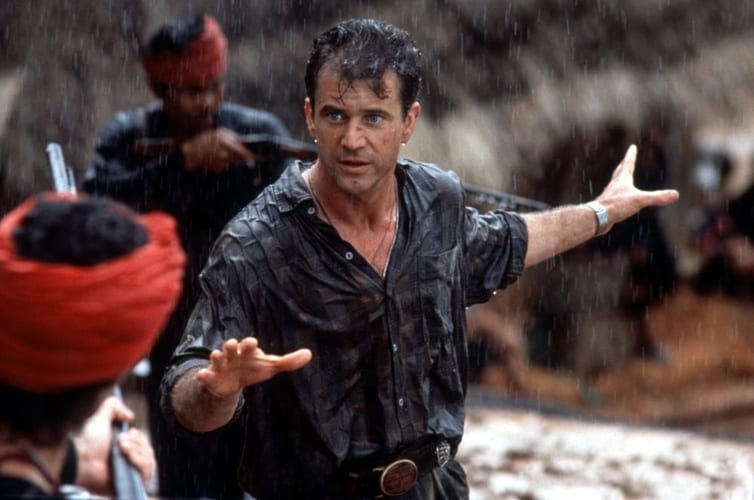 It's evident that screenwriters John Eskow and Richard Rush, as well as director Spottiswoode took their cues from M*A*S*H, as there are satirical jabs and goofy jokes throughout, including a Buddhist monk blessing the airplanes and someone offering Juicy Fruit to Billy after a plane crash. However, many of the jokes either fall flat or fail to register due to the lack of actual wit - not even Bill Murray or Robin Williams could have done much with the material. On the upside, the soundtrack is littered with an array of classic songs, including "Gimme Shelter" by The Rolling Stones which is apparently contractually obligated to appear in every Vietnam War-era motion picture ever produced. In addition, Gibson still manages to emanate plenty of charisma, and he plays his role with an agreeable masculine swagger. Downey, meanwhile, was in his early days here, and he certainly tries his hardest whilst playing opposite such a big star, doing what he can with the mediocre material. Even when the movie is at its most stilted, Downey and Gibson are still watchable at least.
Air America is not overly memorable, and despite its attempt to convey a weighty anti-war message as it tells this true-life story, it's too disposable to make enough of an impact. Still, it is able to come to life in fits and starts thanks to the inherent charm of its two leads and the agreeable soundtrack. Plus, it's hard not to be impressed with the technical construction of the picture, especially with Deakins' cinematography. As a minor chronicle of the CIA's clandestine weapon and drug trafficking in the Vietnam War, it's at least worth a watch, but otherwise it will only be perceived as something of a historical curiosity since it features Martin Riggs and the future Iron Man. Perhaps a superior movie about the same topic will materialise sometime in the future.
5.7/10