"The new vacation will stand on its own."

Talks of a soft reboot of the
National Lampoon's Vacation
franchise started all the way back in 2010, with John Francis Daley and Jonathan Goldstein tapped to write and direct the movie, but production wound up stalling. However, the unexpected runaway success of 2013's
We're the Millers
evidently prompted Warner Bros. to finally give 2015's
Vacation
the green light, as this is a blatant attempt to ape the earlier movie, right down to the modest budget, an R rating, and a similar release slot. Happily, this new
Vacation
is a lot better than it had a right to be, passing the most pivotal litmus test for a comedy: it's actually funny. Even though it lacks the sheer wit and ingenuity of the immortal 1983 classic that started it all, it's a worthy follow-up, effortlessly surpassing both
European Vacation
and
Vegas Vacation
. This is exactly the type of crude R-rated comedy that critics love to hate, but I cannot deny that it worked for me.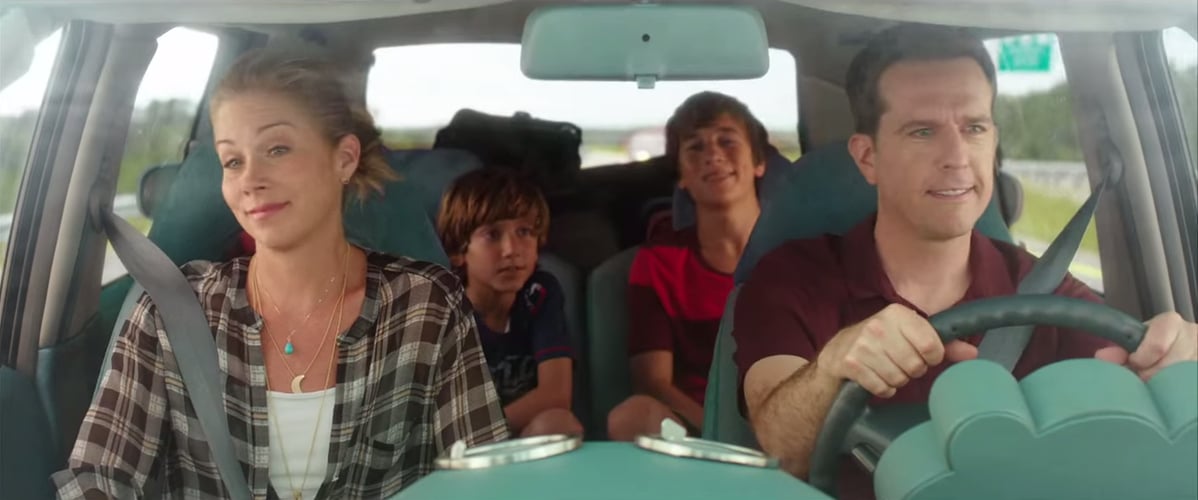 Rusty Griswold (Ed Helms) is all grown up, caring for a family of his own while working as a budget airline pilot. Every year, Rusty takes wife Debbie (Christina Applegate), and sons James (Skyler Gisondo) and Kevin (Steele Stebbins) to a cabin for a holiday, but the annual tradition has grown stale. Hoping to reinvigorate his marriage and reconnect with the kids, Rusty decides to take his family on a road trip across the country to Walley World in order to recreate the memorable vacation he took thirty years earlier. Although his wife and sons are reluctant, Rusty fearlessly leads the gang on a series of misadventures, driving the bizarre Tartan Prancer minivan for the interstate journey. As to be expected, everything soon begins to go wrong, with Rusty trying to maintain his sanity as the accidents pile up, while the siblings fight and Debbie has her own worries.
Vacation undeniably starts out on the right foot, opening with a montage of old holiday photos set to Lindsey Buckingham's song "Holiday Road," which is essentially the franchise's anthem. Better, the photographs that are shown here are often very funny, containing quirks that had this reviewer in stitches. Despite the humour here being raunchier than its 1983 counterpart, Daley and Goldstein display a palpable reverence to the original film, making no bones about the fact that their movie is more or less a retread. There's even some amusing meta dialogue, while the script also acknowledges that Rusty is idealising past events, given the disastrous outcome of the first trip to Walley World in 1983. There are a few direct call-backs to its predecessor as well, including a scene of Rusty encountering a flirtatious beauty in a convertible, but Vacation establishes its own vibe and identity, and doesn't merely come across as a beat-by-beat remake of the comedy that John Hughes and Harold Ramis pulled off three decades ago.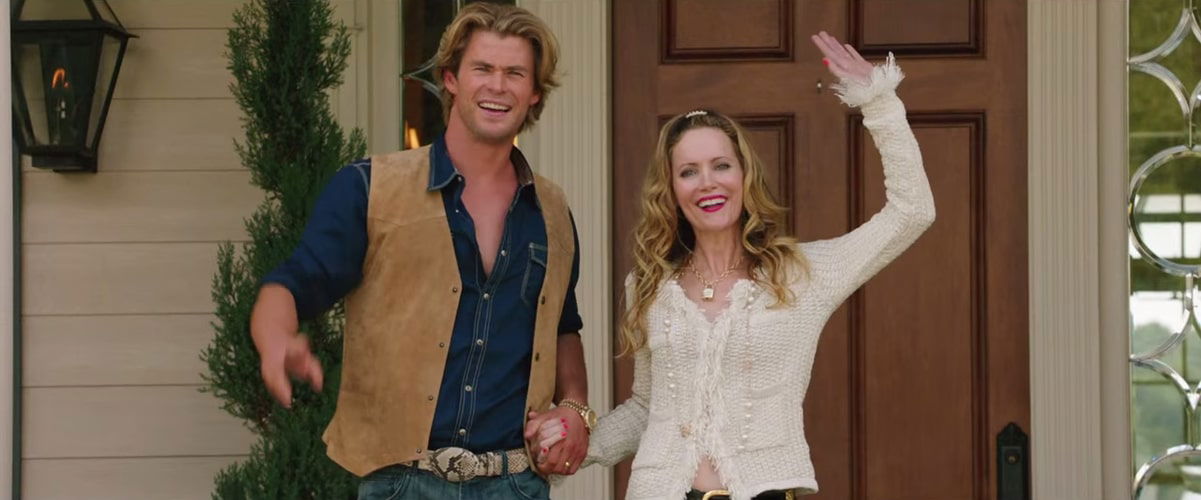 Daley and Goldstein make their directorial debut here, after having penned Horrible Bosses and Cloudy with a Chance of Meatballs 2 together. (If the rest of the world is willing to forget that The Incredible Burt Wonderstone exists, that's fine with me.) Standing in stark contrast to most recent comedies which are agonisingly overlong, Vacation moves by at an agreeable clip, rarely dwelling on a joke or comedic set-piece across its 95-minute runtime. Recurring jokes also hit their mark - the ongoing trials of the oddball Tartan Prancer are uproarious, with a remote control of baffling, mysterious buttons which serve questionable purposes. Easily offended viewers are advised to steer clear since this Vacation increases the lewd and crude factor, but thankfully the freedom of an R rating from the MPAA affords the humour an added punch. Not everything works, however - a predictable scene of the Griswolds swimming in raw sewerage really should have been excised, and some moments are perhaps a bit too mean-spirited.

The fourth actor to assume the role of Rusty Griswold (after Anthony Michael Hall, Jason Lively, Johnny Galecki and Ethan Embry), Helms is suitably endearing and earnest, and though he cannot reach the intimidating level of Chevy Chase, he does his job well enough. Christina Applegate, meanwhile, is incredibly appealing as Debbie. Even though Beverly D'Angelo was always likeable as Ellen Griswold, she was simply the straight woman to Chase, but Applegate is given far more to do here, taking the comedy spotlight on a number of occasions. Equally valuable are the supporting players; Skyler Gisondo plays the more introspective son James well enough, while Steele Stebbins delivers a lot of laughs at the crude, foul-mouthed, bullying younger brother with a never-ending supply of acerbic one-liners. Plenty of other recognisable actors also make appearances, including Chris Hemsworth who's a scene-stealing riot as an over-the-top weatherman. Leslie Mann, Charlie Day, Ron Livingston, Keegan-Michael Kay, Norman Reedus and Michael Pena also appear, contributing plenty of colour to the proceedings. And this wouldn't be a proper Vacation movie without Chase and D'Angelo, who are given the chance to reprise their iconic characters in a smaller capacity. It's wonderful to see them again, though their scenes aren't as funny as perhaps they should be.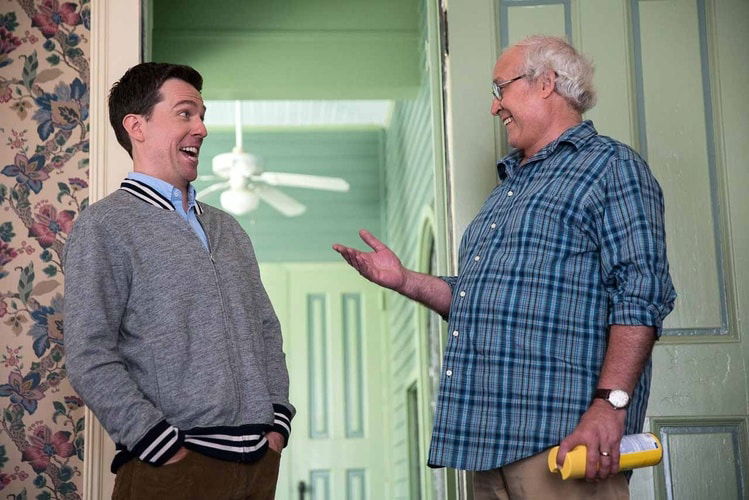 Vacation proceeds with comedy logic, yet it makes little sense to nit-pick story or structure of a film like this. What matters is that Daley and Goldstein have created an episodic yet surprisingly cohesive road trip comedy, it's easy to like the characters, and it delivers on the promise of big laughs. It's baffling that overlong, subpar comedies like The Heat and Spy were adored by critics, while Vacation was a critical punching bag. For this reviewer's money, this is an extremely enjoyable sit, and the fact that it's actually hilarious is a huge deal.
7.2/10