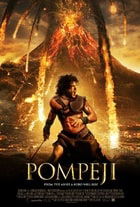 Posted : 1 year, 2 months ago on 24 March 2014 09:58 (A review of
Pompeii
)
"The mountain will kill us all!"
2014's
Pompeii
is perhaps the first major Hollywood blockbuster which feels like the low-budget "mockbuster" version of itself. Indeed, if a none-the-wiser viewer ever stumbled upon this schlock while channel-surfing, they would likely assume that it was produced by the SyFy Channel or The Asylum. In theory, a filmic retelling of the Pompeii disaster with modern visual effects and a $100 million budget should be an easy home run, but this project was overseen by Paul W.S. (Waste of Sperm?) Anderson, late of
The Three Musketeers
and multiple
Resident Evil
movies. The movie founders right out of the gate, with woeful scripting and an uninteresting story destroying any potential for this to be the next
Titanic
. Running at barely 90 minutes,
Pompeii
is mostly concerned with bland political turmoil and a forced love story, reducing the volcanic destruction to a mere footnote. Unfortunately, none of the story elements are able to gain full traction under Anderson's watch.

As a boy, Milo (Kit Harrington) witnesses his parents being murdered by powerful Roman senator Corvus (Kiefer Sutherland), who decimates Milo's village in the process. Forced into slavery and raised to be a gladiator, Milo winds up being sent to Pompeii to participate the local gladiatorial games which are actually overseen by Corvus. Bonding with fellow gladiator Atticus (Adewale Akinnuoye-Agbaje), Milo also catches the eye of beautiful noblewoman Cassia (Emily Browning), the daughter of Pompeii ruler Severus (Jared Harris). Unfortunately for Milo, Corvus has eyes for Cassia as well, seeking to coerce her hand into marriage and have Milo killed in the games. As the drama unfolds, the nearby Mount Vesuvius begins to erupt, threatening to destroy the city and kill everyone, causing mass hysteria.

Unfortunately, the script wastes too much time on scenes of forced conflict and a love story which makes precisely zero sense. Literally, Milo and Cassia only fall in love because the screenplay demands it. Titanic made it clear that Jack's adventurous, spontaneous spirit endeared him to Rose, but here? Milo and Cassia spark to each other when he takes a dying horse out of its misery. Okay then. Moreover, since both characters are so underdeveloped and one-dimensional, it's impossible to believe the romance, let alone become invested in it. Pompeii labours through countless subplots, hoping that all the interminable build-up will result in fully-rounded characters, but Anderson fumbles it up. (In fact, Milo and Atticus are a far more entertaining on-screen pair than Milo and Cassia, and Pompeii would have been infinitely more interesting if there was no romance and the story simply involved the exploits of the two gladiators.) Rubbing salt in the wound is the ending, which aspires to be powerful but fails to earn the right. Instead, it's laughable.



Pompeii wants to be a merger of James Cameron's Titanic and Ridley Scott's Gladiator, but Anderson is neither Cameron nor Scott - rather, he's a boorish director incapable of understanding basic cinematic principals like nuance. Whereas Titanic carefully examined the mayhem aboard the ship as it sank, scenes of Pompeii's destruction are in very short supply. It takes over an hour for the eruption to begin, for crying out loud. There's maybe five minutes of footage of panicked denizens being obliterated by the mountain before Anderson shifts focus to yet another gladiatorial conflict and an uninteresting chase through the fiery city streets. Such scenes are utterly tedious compared to the volcanic fury that movie-goers would expect to see in a flick called fucking Pompeii. And while most of Anderson's cinematic output is R-rated, Pompeii is a PG-13 endeavour, a decision which harms the entire experience. Although the destruction is violent enough within the restraints of its MPAA certificate, the majority of the movie is about bloody gladiator battles, none of which are particularly exciting or even coherent due to herky-jerky photography and awkward editing. Bleeding seems to be optional for characters, as well, and the whole enterprise would be far more entertaining if the matches were closer to Gladiator in terms of violence.

Despite its budget, Pompeii feels astonishingly cheap on occasion. Admittedly, there are a number of impressive money shots once Vesuvius awakens, but it appears that the entire budget was saved for the half-hour of volcano mayhem, hence the preceding two acts look oddly low-budget, more like a television production than a major motion picture. It certainly doesn't help that Pompeii was shot digitally, and even lacks the polish of something like Game of Thrones, which looks far closer to cinema quality than this malarkey. It's a shame, as filming on 35mm could've given the production a far more expensive feel. Making matters worse is the woeful acting right across the board. Harrington seems to be from the Sam Worthington school of nondescript action heroes (and yes, I'm aware Harrington is great on Game of Thrones), while Browning is an utter blank slate. The pair are supposed to represent the movie's heart, but they're complete dullards who share more of a sibling connection. Sutherland, meanwhile, is a special kind of terrible, though Akinnuoye-Agbaje is at least fun.



Pompeii is a tremendous wasted opportunity. In the hands of a superior moviemaking team led by a genuine visionary, we could have been given the definitive cinematic portrayal of the eruption of Mt. Vesuvius, but instead we're left with this disappointing tosh. It's clear that Anderson wanted Pompeii to be a change of course for his directorial career, but he can't bring it together in a substantive way, with rushed storytelling and insufficient breathing room for proper dramatic growth. A few minutes of halfway impressive spectacle are simply not enough if the rest of the movie is as drab as this. In the end, this is a bad movie which would've been a lot more fun if only it were worse. See, because of the PG-13 rating, it feels too tasteful when Anderson should have ramped up the sleaze and the violence. That sort of approach would've resulted in at least a guilty pleasure rather than the boring cheese-fest that we're left with.

3.8/10

0 comments,
Reply to this entry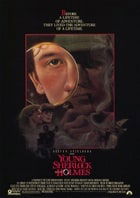 Posted : 1 year, 2 months ago on 22 March 2014 02:06 (A review of
Young Sherlock Holmes
)
"It was a wonderful, heroic moment for Holmes. But little did he know that his amazing powers and talents would soon be put to a much greater test, a test of terrifying and deadly proportions."
An unjust box office flop upon its release, 1985's
Young Sherlock Holmes
was reportedly intended to be the first film in a new franchise, and it's a genuine shame that such plans never materialised. Years on, it has become a cult item, and for good reason - this is an exciting action-mystery which delivers robust entertainment for kids and adults alike. And the fact that it works so well is a bit of a surprise, as it's an American-produced motion picture shot in Britain starring unproven young actors, but the end result is extremely assured, another little-seen '80s gem which deserves more attention than it gets. As the movie itself acknowledges, the original Sherlock Holmes stories by Sir Arthur Conan Doyle never delved into the character's early life, rendering such territory fresh and fertile.
Young Sherlock Holmes
might be a bit cheesy, but it's sold with utmost sincerity. It's simply delightful.

Long before he was London's top detective, Sherlock Holmes (Nicholas Rowe) was an intelligent young student at boarding school, and his best friend was the portly, nervous John Watson (Alan Cox). Holmes' curiosity is piqued by a string of seemingly accidental deaths in the city, with the victims seeing vivid hallucinations which drive them to suicide. Alas, Police chief Lestrade (Roger Ashton-Griffiths) doesn't buy into Holmes' theories, and a school prank leads to Holmes being expelled. Undeterred, Holmes enlists the help of girlfriend Elizabeth (Sophie Ward) and his friend Watson as he seeks to establish a link between the deceased and find the cause of the lethal hallucinations.

By now, the "origins tale" template is well-known in cinema, and the formula has grown repetitive due to how predictable it has become. But Holmes lends himself extremely well to such an endeavour, and it helps that the screenplay by Chris Columbus takes full advantage of the opportunity, with witty dialogue and strong, cohesive, wonderfully old-fashioned storytelling. Young Sherlock Holmes was produced by Steven Spielberg (as well as Henry Winkler, the Fonz himself...), hence the movie is exactly the type of entertaining adventure romp that Spielberg has become renowned for producing. What's notable about Young Sherlock Holmes is just how fun it is, all the way through to its core. Running at 105 minutes, director Barry Levinson (Rain Man, Bugsy) maintains an agreeable pace throughout, and the movie serves up plenty of intrigue, action, and even some rather dark gothic horror moments. It's a bit tonally similar to Spielberg's Indiana Jones films, to the extent that the movie was actually titled Young Sherlock Holmes and the Pyramid of Fear in a few territories.



With Spielberg's backing, this is a gorgeous motion picture. Stephen Goldblatt's cinematography is often eye-catching, taking full advantage of the magnificent period sets and locations, and the candlelit look of multiple scenes is striking. The special effects are brilliant as well, and the movie features the first fully digital character in cinema, which was animated by Pixar (the studio started life as a division of LucasFilm). There is some fine stop-motion animation here as well, and the old-school disposition gives the visuals an old-fashioned charm. Best of all, while Young Sherlock Holmes is a tad goofy at times, Levinson keeps things grounded, never slipping into outright kitsch. The film is also supported by a magnificent score courtesy of Bruce Broughton, whose compositions are flavoursome and have their own unique identity. However, the movie is certainly dark at times, and it's questionable as to whether or not some content will be suitable for kids. Indeed, a couple of scenes were uncomfortable even for this reviewer. If there is anything to criticise, it's these occasionally jarring tonal changes.

On a more positive note, the casting is miraculous. Rowe is a pitch-perfect Holmes, nailing his recognisable traits while also being wholly believable in every scene. In fact, it's surprising that he hasn't played the gentlemen detective again, as he could carry his own franchise at his current age. Likewise, Cox is a great pick for a young Watson, and Sophie Ward also makes a great impression as Holmes' love interest. It's the casting of these performers which makes the movie a great sit for the younger viewers - Rowe is the stalwart hero that boys will wish they could be, Cox is the Everyman that kids can identify with, and it's hard to imagine any teenage boy not having the hots for a cutie like Ward. Commendably, the movie does not pull any punches in terms of perilous situations despite the protagonists being kids, making the experience all the more satisfying and exciting. If the movie was made today, not a single gun or sword would be drawn, but in this '80s iteration we get the sense that the teenaged characters aren't safe from this villainous plot.



Young Sherlock Holmes is best described as a mixture of Indiana Jones and The Goonies in a 19th Century setting, and the result is pure entertainment. It's respectful to the works of Doyle, and the Sherlock Holmes geeks will have a ball watching all of the pieces of the established mythology fall into place in such a clever fashion. Give me this type of '80s adventure film over the latest Hollywood extravaganza any day, as it has a special type of charm and heart that simply cannot be replicated anymore. Best of all, it confidently holds up in 2014. And be sure to stick around for a post-credits scene, which definitively wraps up this story and establishes one of Holmes' most iconic archenemies in a shrewd twist.

8.2/10

0 comments,
Reply to this entry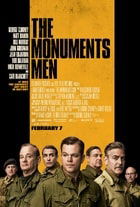 Posted : 1 year, 2 months ago on 20 March 2014 05:12 (A review of
The Monuments Men
)
"You can wipe out an entire generation, you can burn their homes to the ground and somehow they'll still find their way back. But if you destroy their history, you destroy their achievements and it's as if they never existed. That's what Hitler wants and that's exactly what we are fighting for."
The heart of
The Monuments Men
is in the right place. A historical drama set during World War II, it's an affectionate throwback to Hollywood's golden era, recreating the spirit of war pictures from the '50s and '60s. It's the latest from George Clooney, who directs, co-writes and stars, working with frequent collaborator Grant Heslov to mount a wonderfully old-fashioned war film which was initially intended for the 2013 awards season. However, the release shift to early 2014 does make sense - while
The Monuments Men
is often compelling adult entertainment, it's also an undeniably flawed effort which cannot quite come together as well as it should. Most notably absent here is cohesion, as the film amounts to a string of vignettes which lack connective tissue. Still, Clooney stages each of the various set-pieces with finesse, and it's admirable that this is a character-driven picture as opposed to a battlefield-centric endeavour.

With WWII entering its latter stages, the Nazis are looting homes and museums, stealing countless pieces of priceless art for Hitler's private collection. Art conservationist Frank Stokes (Clooney) is less than pleased about Hitler's intentions, gaining approval to go behind enemy lines and secure as much precious art as possible. Assembling an allied team of soldiers consisting of specialists and historians - including James Granger (Matt Damon), Richard Campbell (Bill Murray), Walter Garfield (John Goodman) and Preston Savitz (Bob Balaban) - Stokes travels to Europe, splitting up the men as they comb through France and Germany for leads in their search. While in Paris, Granger also meets secretive museum employee Claire Simone (Cate Blanchett), who witnessed the Nazis stealing art and may be able to assist the men in finding various hidden masterpieces in order for them to be returned to their rightful owners.

The Monuments Men is based on a true story, but it's heavily fictionalised - the names of the main players were changed, and the script reduces the titular gang of soldiers from a few dozen down to only seven. While a sprawling three-hour epic with a bigger ensemble would've been more preferable, accuracy has never been a strong suit of Hollywood war epics, and Clooney's picture works effectively enough on its own terms as a dramatisation.



Although the characters are somewhat developed as we observe their exploits on the battlefield, it feels as if a huge chunk of film is missing from the movie's early stages. Basic training takes all of five minutes before the guys are sent into war-torn Europe, unwisely skimming through crucial character development to get to the meat and potatoes of the plot. The Dirty Dozen dedicated more than half of its runtime to plot set-up and character development, but The Monuments Men skips such essentials to bewildering effect. As a result, we get tiny bits and pieces of information about each of these guys, but none of them become fully three-dimensional. Furthermore, there's not enough of a backbone to the narrative; it's all over the shop, and none of the individual stories of the men achieve full lift-off.

Clooney aims for two distinct tones here: a jolly, comedic men-on-a-mission vibe, and a dramatic tone, with a number of scenes showing the severity of war. However, the movie winds up feeling disjointed, as the tonal shifts are not properly negotiated. Nevertheless, The Monuments Men is an enormously handsome motion picture, benefitting from slick production values and superb artistry in every technical aspect. Phedon Papamichael's cinematography is vibrant and sophisticated, evoking a 1950s vibe, while the gentle score by Alexandre Desplat amplifies the power of the story. As to be expected considering the $70 million budget, there's a keen sense of authenticity to the period recreation; sets, costumes and locations are simply gorgeous, maintaining the illusion that this is WWII. Clooney also handles many of the set-pieces beautifully, orchestrating a few fun sequences and some touching moments (a scene set on Christmas Eve is particularly poignant). The Monuments Men is not a battlefield epic akin to Saving Private Ryan, thus images of violence are scarce and the movie is PG-13. However, miraculously, this approach does not undercut the production, and that is no mean feat.



Under Clooney's directorial watch, the performers are flawless from top to bottom. Even though character development is minimal, the all-star cast do an laudable job of carving out a distinct on-screen persona, making sure we never mistake one for another. Clooney is unsurprisingly strong, remaining perpetually focused despite the added pressure of directing the picture. Damon is just as good, and he shares his strongest moments with Blanchett, who's exceptional in her small part, espousing a magnificently lived-in accent. The underused Hugh Bonneville is another standout - his story is easily the most affecting, and he brings great gravitas to the character. Digging further into the supporting cast, John Goodman and Bill Murray are great picks for their respective roles, adding plenty of colour to the proceedings. Rounding out the main players, Jean Dujardin and Bob Balaban both hit their marks beautifully. Unfortunately, though, since the titular men are often split up, there is not enough of a group dynamic, which is disappointing considering the talent involved.

The Monuments Men would be better served as a miniseries in the vein of Band of Brothers, which would be able to follow a larger ensemble without losing the story's intimacy. One must wonder how much material was left on the cutting room floor, too, as the movie possesses the earmarks of a motion picture that was extensively trimmed in post-production. As it is, The Monuments Men is an interesting misfire which comes close to greatness. The film's technical achievements remain exceptional, and there are a number of brilliant segments and moments throughout the two-hour runtime which render it worth seeing in spite of its flaws.

7.1/10

0 comments,
Reply to this entry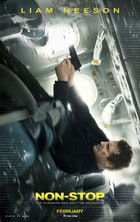 Posted : 1 year, 2 months ago on 19 March 2014 10:28 (A review of
Non-Stop
)
"I'm not hijacking this plane. I'm trying to save it!"
On paper, 2014's
Non-Stop
sounds exceedingly promising, especially with the combined talents of star Liam Neeson and director Jaume Collet-Serra, who previously collaborated on
Unknown
back in 2011. But in execution, the finished product is merely adequate, with slipshod scripting and an overwhelming amount of stupidity squandering the crackerjack premise. Instead of a taut mystery,
Non-Stop
is a meandering thriller which forgoes sophistication in favour of dumb action moments. If you're looking for a good plane movie, try the much more entertaining
Air Force One
or the suspenseful Wes Craven chiller
Red Eye
. Hell, even
Flightplan
and
Snakes on a Plane
have more worth.

A raging alcoholic, Bill Marks (Neeson) is a federal air marshal who boards a plane to London to fulfil his duties. Meeting kindly stranger Jen (Julianne Moore) on-board the flight, it's business as usual for Bill, but he soon becomes bombarded with text messages from an unknown source, who threatens to kill somebody every twenty minutes until $150 million is wired to an account of their choosing. Although Bill suspects a hoax, he soon realises that the threat is very real. Not sure who to trust, he enlists the help of Jen and kindly flight attendant Nancy (Michelle Dockery) to assist in locating the culprit without attracting attention from the rest of the passengers. However, as time goes by, Bill learns that he's being framed, with the passengers perceiving him as a hijacker. Out to stop a potential disaster, Bill is pitted against not only those responsible for his framing, but also the passengers and crew of the flight who utterly refuse to trust him.

Collet-Serra gets plenty of mileage out of the pressure-cooker environment of the plane, taking full advantage of the claustrophobic atmosphere. Plane thrillers are often effective, as the ensemble are stuck high in the air with no escape, limited resources and restricted space. The script (credited to three writers) is also effective in the way that it makes Bill fallible, delving into his flaws as a human being whilst also portraying him as a stand-up guy who helps a little girl deal with her fear of flying. Unfortunately, Non-Stop's ensemble is pure cliché; on top of the aforementioned little girl who's flying alone for the first time, there's an elderly couple, an NYPD officer, a few black people, and even a Muslim for some racial tension. It's all very predictable. Worse, the passengers are led to firmly believe that Bill has hijacked the plane, but he manages to bring them all to his side with a cringe-worthy speech admitting his shortcomings. Suddenly, they believe Bill is a good guy, follow his every command and apologise for being douchebags. Seriously?



Non-Stop keeps us in the dark for the majority of its running time, unspooling methodically as we are left to guess who the culprit is. However, pacing is not a strong suit for Collet-Serra. There is a great deal of tension at times, but at other moments the movie is utterly monotonous, in need of more snap and momentum. And without divulging too many spoilers, it must be said that the script is a cacophony of dumb. For the nefarious plot to play out as planned would require absolutely spot-on forethought regarding the psychology of a few hundred people, while it also depends on sheer dumb luck to succeed. There are many loose ends as well, including unexplained villainous insight into the secrets of Bill and others. Plus, those framing him could have easily disposed of Bill and revealed themselves much earlier in the game. I mean, after the media portrays Marks as a terrorist to the world, why the hell do they need him anymore? The answer, of course, is that the script simply demands it in order to pave the way for the big climax.

Rather than relying on sophistication for the finale, Non-Stop dabbles in over-the-top James Bond theatrics, forcing an action climax that's simply unnecessary, revealing the film to be the bone-headed mainstream thriller that it is. There's no class, bite or plausibility to the ending - Collet-Serra goes for cheap matinee thrills, leaving a bitter aftertaste. Added to this, the motivation behind this villainous plot is heavy-handed and preachy, attempting a mature message but coming off as forced instead.



To the credit of Collet-Serra, Non-Stop is fairly accomplished from a technical standpoint. As dumb as the action beats are, the choreography is solid, especially considering the tight spaces in which the hand-to-hand combat occurs. Neeson can still kick ass with the best of them, and the fights here are brutal and sharp. Neeson also remains an agreeable protagonist, continuing his quest to become one of the most unlikely action heroes of recent years. He's a reliable, muscular performer, and he commands attention with his authoritative line delivery. Neeson is easily Non-Stop's biggest asset, and it's hard to imagine any other actor nailing the balance between Everyman and badass so perfectly. The supporting cast fares adequately, with Julianne Moore and Michelle Dockery both delivering amiable performances, while Linus Roache is effective as the plane's captain. The rest of the ensemble are suspicious enough to make them suspects, yet have a few redeeming qualities to make you second-guess.

In the hands of a more sophisticated filmmaking team, Non-Stop might have attained greatness, but instead it's a nasty mainstream distraction which will be all but forgotten by year's end. It's riddled with Swiss cheese-like holes and has absolutely no sense of plausibility, though it does admittedly deliver some nice mystery elements and a few agreeably adrenaline-charged action beats. There's no getting over the myriad of flaws, but at least it's marginally better than Taken 2.

5.3/10

0 comments,
Reply to this entry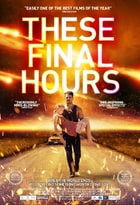 Posted : 1 year, 2 months ago on 18 March 2014 12:16 (A review of
These Final Hours
)
"It's happened. Approximate location of impact: the North Atlantic. As I speak to you right now, it's making its way towards our fair nation."
The horror genre has practically become synonymous with paranormal overtones, with 2013 alone begetting titles like
The Conjuring
and
Evil Dead
which involve chilling supernatural occurrences to generate scares. But 2014's
These Final Hours
is a different type of genre movie. It's definitely a horror flick, but its scares are not derived from ghosts or demons, but rather from its depiction of the ugly side of human nature in the face of a societal collapse. It's an apocalypse film on a dime, eschewing images of large-scale global destruction to present a focused depiction of suburban meltdown on the eve of the world's end.
These Final Hours
works because it's not about the apocalypse per se - rather, it's a tale about people dealing with the knowledge of the impending disaster. The result is powerful and not easily forgotten, and may compel you to mull over what you would do on Earth's final day.

Set at an unspecified time presumably not far into the future, the end of the world has arrived, with the planet being gradually "peeled like an orange" following a devastating meteorite strike. The film is set in Western Australia, where mere hours remain until the end is upon them. Society has crumbled, giving rise to anarchy on the streets, with suicides, looting and murder everywhere in sight. Leaving his mistress to attend a party, James (Nathan Phillips) encounters utter chaos everywhere he goes, and happens upon a group of thugs who've kidnapped innocuous young girl Rose (Angourie Rice). In a stroke of guilt, James rescues Rose, and seeks to return the frightened child to her family. It's not an easy task, however, and James finds himself conflicted about how to spend his final hours of life.

By eschewing a stereotypical Roland Emmerich approach, These Final Hours isn't a spectacle but rather a gripping, wholly plausible portrait of the end of the world, reflecting what is more likely to occur in the event of an apocalypse. Writer-director Zak Hilditch ladles on the horrific elements, observing the effects of looting and pillaging in a world without order, and even finding armed criminals relishing the opportunity to lay down their own laws. Suicides are rampant as well, with Hilditch staging scenes that may give people nightmares. These Final Hours is not for the faint of heart, with heavy thematic undercurrents and disturbing imagery, but it's also surprisingly touching as well. Hilditch filters the story through the point of view of James and Rose, grounding the story in humanity as we tour the apocalyptic atrocities. James initially wants to spend his final hours drinking and partying, but comes to appreciate what means the most to him in life, and such a character arc is incredibly affecting. These Final Hours does not introduce any false hope - this is not a story about trying to prevent the apocalypse, but rather an intimate story of redemption in times of chaos. It's a clichéd notion, sure, but it doesn't diminish the movie's impact.



Not all of These Final Hours is entirely successful, though; an early vignette spotlighting a crazed maniac with a machete may provoke unintentional laughter, as it's played a bit too broadly. Plus, once the finish line is in sight, Hilditch introduces an additional complication that feels utterly forced, and not all of the dialogue works. (As destructive forces descends upon the Western Australia coast, one character exclaims "It's beautiful!") Nevertheless, These Final Hours is often compelling thanks to the technical sleight of hand. By limiting the story's sense of scope, Hilditch never lets the picture out of his control, crafting smaller scenes of murderous turmoil and rampant immorality with incredible flair. There is much to admire about Hilditch's construction of the picture, compensating for lack of budget with sheer inventiveness. These Final Hours carries an orange hue in its visuals to convey the intense heat and the encroaching wall of fire, and the sound design is both effective and atmospheric. The movie doesn't feel cheap at all.

To Australian audiences, Nathan Phillips is perhaps best known for his turn in Wolf Creek back in 2005, though he has since appeared in movies like Snakes on a Plane and Balibo. His performance here is incredibly robust, communicating a wide swatch of emotions with seemingly little effort. Phillips sells his character's conflicted nature throughout, not to mention his fear, and it's to his credit that he's so likeable and sympathetic as well. But even better is young Angourie Rice, who's a revelation as Rose. She retains her childhood innocence, yet she's also a nuanced actor, submitting a performance beyond her years.



Do not watch These Final Hours expecting a pleasant viewing experience, as it's uncompromising in its brutal violence and ugly behaviour. There's not a lot of replay value as a consequence, and the experience is a bit rough around the edges, but it still deserves to be seen. Recalling the likes of The Road and 28 Days Later... with a hint of Mad Max, it's one of the most riveting Aussie movies in years, showing that a sizeable budget is not always necessary to tell a powerful story or create sheer, visceral terror.

7.8/10

0 comments,
Reply to this entry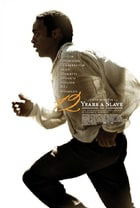 Posted : 1 year, 2 months ago on 17 March 2014 02:31 (A review of
12 Years a Slave
)
"I don't want to survive. I want to live."
12 Years a Slave
carries the Oscar-friendly "based on a true story" label, as it tells the devastating real tale of Solomon Northup, a free African American who was kidnapped and sold into slavery during the 19th Century. Later penning a memoir following the tragedy, Northup's dreadful ordeal has only been previously dramatised in a forgotten 1980s telemovie, but now it has been immortalised by filmmaker Steve McQueen (no, not
that
Steve McQueen). The resultant motion picture is unsettling, harrowing and heartbreaking, yet
12 Years a Slave
is also a gratifying sit, beset with powerful imagery and artful moviemaking, devoid of the eye-rolling sentimentality of Lee Daniels'
The Butler
. While not the greatest motion picture of 2013, it is most certainly an essential document of one of the most tragic periods of American history.

In 1841, Solomon Northup (Chiwetel Ejiofor) is living peacefully with his wife and two children. A free coloured man, Northup is educated and respected, but he is unceremoniously abducted after a night of heavy drinking, waking up one morning in shackles. Against his will, Northup is renamed Platt and shipped to Louisiana to work on a plantation owned by Master Ford (Benedict Cumberbatch). Thus begins a twelve-year odyssey for Northup, who is utterly broken by the demoralising slavery system. Eventually winding up on a cotton farm run by the brutal, slave-breaking Edwin Epps (Michael Fassbender), Northup also meets young slave girl Patsey (Lupita Nyong'o) as his hope gradually dwindles that he will ever win back his freedom or see his family again.

McQueen reportedly wanted to pen an original motion picture about a free black man who's forced into slavery, but could not quite crack it. Until, that is, his wife introduced him to Northup's 1853 memoir, paving the way for 12 Years a Slave. (There are clashes over who was responsible for the screenplay, but it seems that both McQueen and the credited John Ridley both contributed.) One of the script's biggest successes is the poetic dialogue - rather than modern-sounding chatter, the dialogue throughout 12 Years a Slave feels organic to the era, while also being engaging and naturalistic to boot, and that's no small achievement. Additionally, McQueen ensures that we grow to care about Northup in the movie's opening stages, and we are left to ponder how we would react if we found ourselves in similar circumstances. There are some superb thematic undercurrents at play here as well, as McQueen delves into the ethics of Northup's odyssey to great effect. However, a few of the slave drivers are borderline cartoons, particularly Paul Dano's character. In fact, Dano is introduced singing an offensive song over a montage of slave labour. Some may say such wickedness is accurate to the period, but there isn't much depth to these roles, with the film seemingly intent on demonising those "evil white folk" who took advantage of the slave trade.



As demonstrated in motion pictures like Hunger, McQueen has a flair for creating visual and aural masterpieces, with every frame evidently subject to a great deal of deliberation. His filmmaking spell is amazing throughout 12 Years a Slave, convincingly recreating America's South in the 19th Century on a modest $20 million budget. One can literally feel the sweltering heat of Louisiana, with the astonishing sound design that's incredibly layered yet also understated and realistic. The film's set design is equally breathtaking, with a textured sense of authenticity that feels unforced, bestowing a sense of vividness to Solomon's ordeal. 12 Years a Slave was also shot on 35mm film stock (a rarity these days), giving the visuals a gorgeous texture and a real sense of scope. The colour palette is rich and vibrant, with McQueen refusing to lean on the cheap desaturation gimmick that's become too widespread. However, McQueen holds onto some moments and shots for a bit too long. McQueen would have been wise to trim a few of the more uneventful shots, and he occasionally lingers on the torture too much when a more minimal approach might have amplified the film's power.

The Oscar-nominated Chiwetel Ejiofor is nothing short of mesmerising as Northup, who tries his hardest to maintain self-worth in the face of appalling oppression, yet must come across that he is not. It's sold so well by Ejiofor, an actor who's bounced around the sidelines of movies for years without making much of an impression, but who shows here that we've been underestimating his worth. Comparisons to Sidney Poitier are not unearned; Ejiofor's performance is one of dignity and honest-to-goodness gravitas, creating such a fully-rounded character that not a single moment feels in any way contrived. Meanwhile, Lupita Nyong'o won an Oscar for her supporting role as Patsey, and for good reason.



12 Years a Slave also features a cavalcade of recognisable performers in minor roles. The always-reliable Paul Giamatti plays a ruthless slave peddler, while Cumberbatch is rock-solid as a plantation owner. McQueen favourite Fassbender appears as well, and he's absolutely terrifying as the callous slave driver. And finally, Brad Pitt gets a minor cameo role as a Canadian carpenter who's disillusioned by the American slavery system. Unfortunately, Pitt's inclusion feels hoary; he acquits himself well, but it's hard to shake off the feeling that we're looking at Pitt. A lesser-known performer might have made a bigger impact.

It's easy to see why the Academy awarded 12 Years a Slave with the coveted Best Picture Oscar, as it's a grim, powerful historical tale about racial issues that will probably be used in high school history classes in the future. But is it the best movie of 2013? In my humble opinion, it is not. It's a compelling experience, to be sure, but lacking in replay value, and it's something you appreciate more than you actually enjoy. It's not a motion picture that you will want to watch again too often. Nevertheless, it is a worthwhile history lesson, and the sense of time and place is astonishing. McQueen's technical accomplishments alone make 12 Years a Slave worth watching, even if the experience is flawed.

8.1/10

0 comments,
Reply to this entry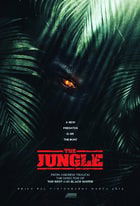 Posted : 1 year, 2 months ago on 13 March 2014 07:37 (A review of
The Jungle
)
"The tracker believes there's a forest demon, a sorcerer, up in the mountains."
The third feature-length endeavour for Australian writer-director Andrew Traucki,
The Jungle
caps off the filmmaker's self-proclaimed "Traucki Trilogy of Terror," following
Black Water
and
The Reef
. Whereas his prior motion pictures were water-based creature features,
The Jungle
is a different beast entirely, with Traucki mounting a "found footage" production set entirely on land. It's a tricky subgenre to handle, with the novelty having worn off long ago thanks to sheer overpopulation. Fortunately, Traucki was up to the task, utilising an effective "less is more" approach to create a spine-tingling exercise in terror.

A big cat conservationist, Larry Black (Rupert Reid) spearheads an expedition to Indonesia where he hopes to find evidence of the rare and endangered Javan Leopard. Tagging along is Rupert's brother Ben, taking with him an array of filming equipment in order to thoroughly document the potentially groundbreaking mission. Travelling overseas, Larry meets locals Budi (Agoes Widjaya Soedjarwo) and Adi (Igusti Budianthika), heading into the wilderness despite warnings that an evil spirit may be looming in the jungle. As the days pass, the team begin to encounter frightening things, and it gradually becomes clear that there may be more than just leopards stomping around.

The Jungle benefits from impressive craftsmanship. Found footage productions are oftentimes too unrealistically shaky, but the photography is crisp and smooth here while still possessing the sense of rawness that's required to help us believe that this is genuine found footage. The Jungle was lensed in New South Wales, Australia, with Byron Bay standing in for the dense forests of Indonesia. To enhance the sense of place, Traucki flew to Indonesia to shoot second unit footage which is intercut with images of the actors. The illusion is seamless, and it genuinely feels as if we're stuck in the Indonesian wilderness with the protagonists. And when the shit hits the fan, it's the bone-chilling sense of isolation which keeps us interested. The sound design warrants a mention, as well. Due to the found footage angle, there is no music at all, hence a skikful sound mix was necessary to maintain interest. Fortunately, it works. The atmosphere is spot-on, and the roars which emerge from the darkness will give you goosebumps.



Traucki manages to avoid many of the usual found footage pitfalls, most notably in relation to the characters. Even the protagonists in The Blair Witch Project are idiotic and hard to latch onto, but The Jungle features a strong selection of characters played by some terrific actors. Reid is a charismatic presence, and his performance as Larry is suitably naturalistic. Larry seems to act like a real human being - when things get intense, we can understand Larry not wanting to turn back, as they've spent so much time on the expedition, and leaving the wilderness will effectively render the whole exercise pointless. If there's a fault with The Jungle, it's that the characters at times seem to be a little too aware of their surroundings in the pitch black darkness. The cameraman can see due to the night vision, but other characters seem to navigate too freely at times. On top of this, Larry's wife begins getting overly emotional in an early interview, explaining that Larry is away too long for too often. The notion is a little too clichéd, and the emotion feels too sudden and out of place.

It's clear at this point that Traucki is a talent to keep your eye on, as he has come a long way since his feature-length debut in 2007. Although it's difficult to rank his films from best to worst as they all have their respective pros and cons, The Jungle is the director's most technically accomplished effort, blessed with slick production values easily as impressive as any multi-million dollar picture. It doesn't reinvent the subgenre by any stretch, but it does its job well enough, and the finale closes the door with a very well-staged shit-your-pants moment.

6.8/10

0 comments,
Reply to this entry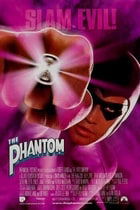 Posted : 1 year, 2 months ago on 12 March 2014 05:38 (A review of
The Phantom
)
"Join the club. Many of us have killed him over the years. But he keeps coming back."
1996's
The Phantom
is another comic book adaptation which has never quite gotten a fair shake. It was produced for a rather extravagant $45 million, yet opened to poor reviews and apocalyptic box office, killing Paramount's plans for a franchise. Although the flick has performed respectably on the home video market and has amassed something of a cult following, it nevertheless deserves more attention and respect.
The Phantom
is pure, unpretentious matinee fun, retaining the spirit of its source to produce an old-fashioned, Indiana Jones-esque action-adventure suitable for kids and adults alike. It's not high art, but its light-hearted disposition makes it a perfectly enjoyable B-movie extravaganza.
The Phantom
is actually part of a trifecta of '30s-set comic book adventure movies from the 1990s which flopped, following
The Rocketeer
and
The Shadow
. They make for a smart triple feature.

For centuries, the titular Phantom has haunted the Bengalla woods, and is known to the natives as "the ghost who walks" since he never seems to die. However, he is not immortal; a new Phantom steps in to take up the mantle when their predecessor is too old or too dead to carry on. Kit Walker (Billy Zane) is the latest incarnation of the Phantom, inheriting the responsibilities from his late father. In New York, shady businessman Xander Drax (Treat Williams) is determined to obtain the fabled Skulls of Touganda, a trio of ancient artefacts that, when brought together, will give great power to those that possess them. Upon learning of Drax's intentions, Kit springs into action, and in his travels meets beautiful former flame Diana Palmer (Kristy Swanson). Kit also realises that Drax is working with the evil Sengh brotherhood, an age-old enemy of the Phantom who were responsible for the murder of Kit's father.

As with Tim Burton's Batman, The Phantom eschews an in-depth origins tale, instead only briskly revealing the hero's genesis before finding Kit firmly set in his ways. The screenplay by Jeffrey Boam (who also wrote Indiana Jones and the Last Crusade) instead drip-feeds anecdotes about the history of The Phantom, which is all that's necessary in the grand scheme of things. Reportedly, the film was initially intended to be a parody of the popular The Phantom comic strip, but this idea was abandoned with the departure of original director Joe Dante. When new director Simon Wincer came on-board, he decided to retain Boam's original script, but play it straight, and it's this approach which gives the movie its charm. See, whereas the whole enterprise is humorous and goofy, Wincer creates a grounded old-fashioned adventure with cool stunts and action scenes. Thus, The Phantom never takes itself too seriously, but it also never devolves into some moronic mockery of the source. It's a silly but sincere endeavour, and it works.



Roger Ebert described The Phantom as one of the best-looking movies he has ever seen, and this is indeed a valid observation, as the picture is visually fantastic. In an age of heavy digital tampering, it's refreshing to see a flick like this which looks real rather than hyper-real, and carries a gorgeous cinematic texture that is rarely seen anymore. Relying on stunt-work and big sets, The Phantom is a wonderful relic of yesteryear, and its special effects still stand up today (some rocky green screen work notwithstanding). The director was Simon Wincer, an Australian who also oversaw the likes of The Lighthorsemen. There's an obvious affection for Steven Spielberg in Wincer's direction, and, especially with the period setting, various scenes could be mistaken for an Indiana Jones film. Wincer nails the pulp adventure serial vibe, and the movie is filled out with a number of action set-pieces which are clichéd but stylish and engaging.

Two actors were in serious negotiations to play Kit Walker/The Phantom for this movie: Zane, and Evil Dead star Bruce Campbell. Although it might have been fun to see Campbell in the role, Zane was ultimately the right choice, showing that he had what it takes to be a fun action hero. Zane was a huge fan of the character and embraced the chance to play him, working extremely hard to buff himself up. A suit was actually made with rubber muscles in pre-production, but Zane did not need it when the cameras began to roll. Sure, the material is hammy and the costume looks ridiculous, but Zane is spot-on, emerging as one of the film's biggest assets. (Zane's performance won him a role in James Cameron's Titanic, which has to count for something.) As the token love interest, Swanson shows plenty of spunk, while Catherine Zeta-Jones is an agreeable pick for the exotic bad girl. Also excellent is Treat Williams (Deep Rising), clearly relishing the opportunity to play a cartoonish bad guy. Rather than sinister and evil, Williams' Drax seems genuinely giddy about his master plan, and looks to be having a blast as he carries out his villainous machinations. Williams has always been an underrated performer, and his talents are visible all over the screen here.



In the 21st Century, The Phantom is note-worthy due to how fun it is - today's superhero movies are often dour affairs concerned with "gritty realism," but this movie is bright and colourful, with a tongue-in-cheek disposition. Indeed, the enterprise is not meant to be taken too seriously, as it's a pure cheese sandwich which moves at a rollicking pace. You call it kitsch, I call it entertainment. And the fact that the planned franchise never materialised is another grave injustice which makes this reviewer quite glum indeed.

6.9/10

0 comments,
Reply to this entry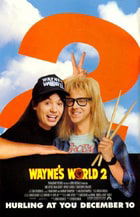 Posted : 1 year, 2 months ago on 11 March 2014 09:17 (A review of
Wayne's World 2
)
"What I'd really like to do is something extraordinary. Something big. Something mega. Something copious. Something capacious. Something cajunga! But I'll probably end up working at Great America, mopping up hurl and lung butter."
A feature-length expansion of a series of
Saturday Night Live
skits, 1992's
Wayne's World
struck it big at the box office upon its release, unexpectedly becoming one of the top 10 money makers of the year. Thus,
Wayne's World 2
was hastily thrown together and released only a year later, but the finished product is not as slapdash or as lazy as most follow-ups of this ilk, which is a miracle in the realm of comedy sequels. The first
Wayne's World
was nothing but a succession of silly skits attached to a flimsy narrative framework, and
Wayne's World 2
follows the same type of formula, targeting a new array of pop culture items to gleefully skewer in a clever, witty fashion. It's not high art, but it's certainly funny, which is the single most important characteristic when it comes to sketch movies. Although
Wayne's World 2
is hit-and-miss, it hits hard when it works, and maintains enough charm to see it through to the finish line.

Picking up a year after the original movie, Wayne (Mike Myers) and Garth (Dana Carvey) are still hosting their Wayne's World show on public access television. The two have seldom changed, as they're still middle-aged man-children, though they have both moved out of their parents' houses and into an abandoned doll factory. Aspiring to do something worthwhile with his life, Wayne has a vivid dream in which the late Jim Morrison (Michael A. Nickles) informs him that his destiny lies in staging one of the greatest rock concerts in history in his hometown of Aurora, Illinois. Calling the event "Waynestock," Wayne and Garth set out to make it happen, hoping to book big names and sell thousands of tickets. Helping them is legendary roadie Del Preston (Ralph Brown), who also receives messages from Jim Morrison in his sleep. Meanwhile, Wayne's girlfriend Cassandra (Tia Carrere) is being courted by an incredibly shady record producer named Bobby (Christopher Walken), leading Wayne to suspect that the two are having an affair.

As with any good sequel, Wayne's World 2 feels like a natural extension of its forerunner, with the script retaining the type of comedy which defined the first movie: taking the piss out of as many targets as possible with stinging wit. Thus, the flick satirises product placement and has a field day poking fun at all the storytelling conventions of Hollywood motion pictures. There's even a spoof of foreign chop-sokey martial arts pictures, complete with obvious dubbing and overzealous sound effects. Wayne's World 2 is exceedingly meta, too - one actor is even replaced mid-scene, and there are several different endings. Sure, such material is derivative of the original Wayne's World, as is the broad strokes of the plot, but this seems to essentially be the point, though more could've been done in a satirical sense. Luckily, the movie works well enough - and delivers enough big laughs - to compensate for any scripting shortcomings.



Produced on a rather sizeable $40 million budget, Wayne's World 2 is a more polished endeavour, with new director Stephen Surjik handling the comic mayhem with sufficient panache. (The director of the first film, Penelope Spheeris, passed on the sequel as she found the egotistical Myers impossible to work with.) Like its predecessor, although it features antiquated clothing, technology and music, Wayne's World 2 has not dated too much, as its satire and pop culture piss-takes remain relevant over two decades on. It carries a '90s cinematic aura, to be sure, but its sharp writing still stands up today. Admittedly, this sequel doesn't do a great deal to branch out from the first film in any substantial way, but this is Wayne's World 2, not Citizen Kane 2, so one needs to keep things in perspective. It's almost refreshing to watch a comedy like this which delivers exactly what the built-in fanbase wants to see, without attempts to be profound.

It's hard to believe now, but Myers used to be a serious comedic talent back in the 1990s, and this is another demonstration of how good the actor used to be. Slipping back into the role of Wayne with ease, Myers' comedic timing and delivery is spot-on, scoring plenty of laughs. Carvey is just as good, and he's given more to do for this instalment. It's especially amusing to watch Garth find himself in the clutches of a potentially dangerous femme fatale named Honey Horneé, played with scene-stealing elegance by Kim Basinger at the height of her hotness. The Double Indemnity spoofing which stems from this is very amusing indeed. But perhaps the best thing about Wayne's World 2 is Christopher Walken, who always reliable as the creepy, off-kilter weirdo. It's a great role for Walken, who plays the role completely straight - there's a good chance he didn't even realise he was in a comedy. There are plenty of other random cameos throughout, as well - the likes of Drew Barrymore, Heather Locklear, Charlton Heston, Kevin Pollack, Jay Leno, Rip Taylor, all members of Aerosmith, and others get a look-in to nice effect.



To be sure, Wayne's World 2 is messy in the narrative department, with subplots that come and go with little impact (Garth's love interests don't lead anywhere), and with the film often meandering, lacking the focus of its predecessor. Added to this, the Waynestock payoff is not quite as satisfying as one might hope. These issues likely stem from the rushed writing process, but they are not enough to diminish the worth of this follow-up. Wayne's World 2 is a flawed but worthy effort, rendering it a satiating companion piece which would play great in a double feature with the original movie. It serves as nice reminder of a time when Mike Myers was actually funny, Dana Carvey was actually acting, and Saturday Night Live features were actually good. How weird all of this stuff seems in 2014.

6.6/10

0 comments,
Reply to this entry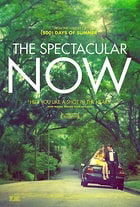 Posted : 1 year, 2 months ago on 10 March 2014 01:08 (A review of
The Spectacular Now
)
"The best thing about now, is that there's another one tomorrow."
The Spectacular Now
was written by Scott Neustadter and Michael H. Weber, the two scribes who were also responsible for 2009's indie smash
(500) Days of Summer
(let's forget about
The Pink Panther 2
). In a perfect world, all romantic comedies should be penned by this pair, as their scripts are full of raw honesty and tender humour, eschewing a Hollywood approach to present a realistic rom-com tale that manages to be both satisfying and entertaining. Based on the acclaimed novel by Tim Tharp, and directed by relative newcomer James Ponsoldt,
The Spectacular Now
is simply enchanting. Most every scene throughout the movie's 95-minute duration possesses such a natural disposition that it often feels like we're watching real people unaware that they're being filmed.

Going on an all-night drinking bender to numb the pain of a recent break-up, Sutter Keely (Miles Teller) wakes up on the front lawn of a random house in a hungover state. He unexpectedly meets young Aimee Finecky (Shailene Woodley), a somewhat unpopular girl from school who's firmly outside of Sutter's friend circle. Sutter is a raging alcoholic who cares very little his studies, but he finds Aimee endearing, joining her on a morning paper route and getting to know her along the way. Sutter is not concerned about her social status, studying with her and even inviting her to parties, which leads to the two striking up an unexpected relationship. However, Sutter's time with Aimee compels him to think about his future, wondering if he is actually worthy of her affections.

Any other rom-com filmmaker would paint Sutter and Aimee in broad strokes of black and white, but Neustadter and Weber's script is too smart for that. Although Aimee initially comes across as a bit of a do-gooder prude, she nevertheless seems adventurous during sex, and even sips alcohol from Sutter's flask. Thus, she's not exactly uptight - rather, she's simply a regular girl who's open to new things, making her far more relatable than the thousands of other rom-com females we're introduced to on an annual basis. Likewise, Sutter may seem like the type who simply drinks and parties, but he also has a deep respect for Aimee, and is wholly aware of his own shortcomings and mistakes. It's insanely relatable. The relationship they forge is so beautiful and distinctly organic - they start out as hesitant friends, but before they even realise what's happening, they're more deeply involved than perhaps either of them had ever counted on.



The Spectacular Now hits home on several occasions, as it delves into heavy thematic material that definitely struck a chord with this reviewer. Perhaps the most substantial thematic strand relates to living in the now vs. living in the future, therein justifying the title. Sutter is consistently living in the now, making him ponder his relationship's longevity since Aimee has the potential to do something special with herself in life. Aimee's mother wants to keep her on a short leash and forbids her from leaving town to attend college, but Sutter selflessly encourages her to stand up for herself and pursue her dreams, even if this may lead to a future which jeopardises their relationship. Likewise, Aimee encourages Sutter to find the whereabouts of his father (Kyle Chandler), whose location is a closely-guarded by his mother. But Sutter meeting his dad is an almost traumatic experience, as Sutter witnesses the future that he's likely travelling towards. It's a dark future, and he doesn't want to drag Aimee into it, compelling him to contemplate whether he should selfishly keep her, or push her away to protect her.

As Aimee, Shailene Woodley is not the type of super-hot goddess that we expect to see in rom-coms. Yet, we understand why Sutter falls for her, because she possesses understated beauty and a warm charm; she's a lovely soul deep down inside, making her more appealing than any characters played by the likes of Jennifer Aniston or Katherine Heigl. Teller is likewise remarkable as Sutter, which is completely unexpected considering the other dreck that he has appeared in lately (21 and Over, anyone?). Teller's frat boy persona makes him ideal for the role, yet his ability to infuse Sutter with actual depth is a testament to his talents as a performer. Teller and Woodley deservedly won the acting award at the 2013 Sundance Film Festival - they are such an appealing on-screen couple who share great chemistry. Their interactions feel so natural, and watching them share their first kiss is actually affecting. The rest of the cast are fortunately just as good, with Mary Elizabeth Winstead particularly excelling in the small part of Sutter's older sister. Chandler is also worth mentioning, as he sheds all movie-star charisma to play Sutter's pathetic father who's so much lost his way in life that he cannot even realise when he's doing something wrong.



Director Ponsoldt elects a gentle, almost raw filmmaking approach, shooting on 35mm film stock to amplify the realistic aesthetic. There's nothing intrusive or glossy about this production - it's a motion picture which trusts in the power of its script and performances, rather than flashy visuals or an intrusive musical score. Admittedly, The Spectacular Now does hit a few rough patches as it goes through its final third, struggling to find an endpoint that's satisfying without being a copout. It's not overly successful, but it's not enough to diminish the strength of the rest of the movie. The Spectacular Now may not be groundbreaking, but it is refreshing; a touching story that's well-told, full of sensitive moments and featuring two very talented young actors. It definitely deserves to be seen.

8.2/10

0 comments,
Reply to this entry