"Control, control, you must learn control!"
Disclaimer: As with my critique of Star Wars: Episode IV - A New Hope, this review will be in reference to the theatrical cut of The Empire Strikes Back, unless otherwise specified.
Surpassing even the most optimistic of expectations in 1977, Star Wars became a phenomenon, earning a mint at the box office and bringing in millions of additional dollars in merchandising. Producing a sequel to such a much-loved motion picture would be daunting for any filmmaker, yet, like its predecessor, Star Wars: Episode V - The Empire Strikes Back managed to transcend all expectations with ostensibly effortless aplomb. Released in 1980, The Empire Strikes Back succeeds because it's not just a simple, light-hearted victory lap for George Lucas and his crew - it's a bold, dark sequel which closes on an uncertain note and leaves more questions than answers. It isn't just a terrific sequel on its own terms, but also one of the best follow-ups in feature film history, and it's arguably superior to the motion picture which spawned it. Boasting terrific special effects and the confident directorial hand of the late great Irvin Kershner (RoboCop 2), The Empire Strikes Back is a masterpiece that still endures in the 21st Century.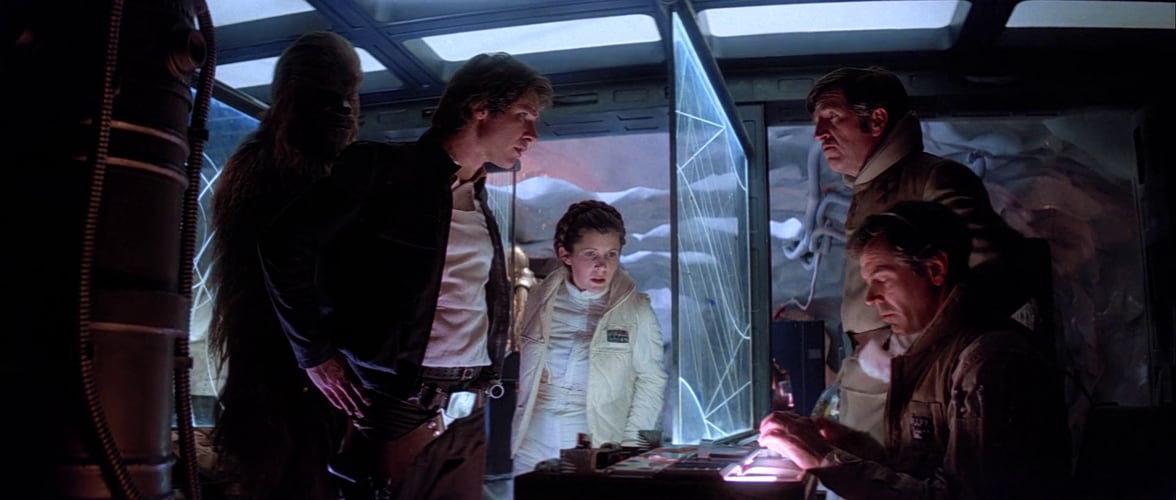 Three years after the successful assault on the Death Star, the Rebel Alliance have constructed a new base in secret on the ice planet of Hoth, hidden from the Galactic Empire. But when probe droids alert Imperial forces about the location of the rebels, Lord Darth Vader (David Prowse) spearheads an invasion, forcing an evacuation of Hoth. While Luke Skywalker (Mark Hamill) is instructed by the spirit of Obi-Wan Kenobi (Alec Guinness) to travel to the Dagobah system to seek out Jedi instructor Yoda (Frank Oz) for training, Han Solo (Harrison Ford) seeks safety elsewhere, travelling with Princess Leia (Carrie Fisher), Chewbacca (Peter Mayhew) and trusty protocol droids C-3PO (Anthony Daniels) and R2-D2 (Kenny Baker). But Vader summons multiple bounty hunters, including the notorious Boba Fett (Jeremy Bulloch), to hunt down Solo's ship.
Although George Lucas wrote and directed 1977's A New Hope, he wisely enlisted outside help for this instalment, with screenwriters Leigh Brackett and Lawrence Kasdan working from Lucas' story outline. Due to this, The Empire Strikes Back irons out the little imperfections of the original film, particularly in regards to dialogue. Furthermore, whereas A New Hope was on the simplistic side, this sequel ups the ante and expands the franchise's scope, ditching the light popcorn serial mentality in favour of a darker tone, with its daring ending demonstrating that the good guys do not always win. This is also a far denser tale, even adding a layer of romance by exploring the sexual tension between Han and Leia that was palpable in A New Hope. Furthermore, The Empire Strikes Back expands upon the Jedi religion by introducing Yoda, a wise old Jedi Master who once instructed Obi-Wan. Yoda was brought to life by Jim Henson's legendary creature shop, who created an astonishingly expressive puppet, while Muppets veteran Frank Oz voiced and performed the role to perfection.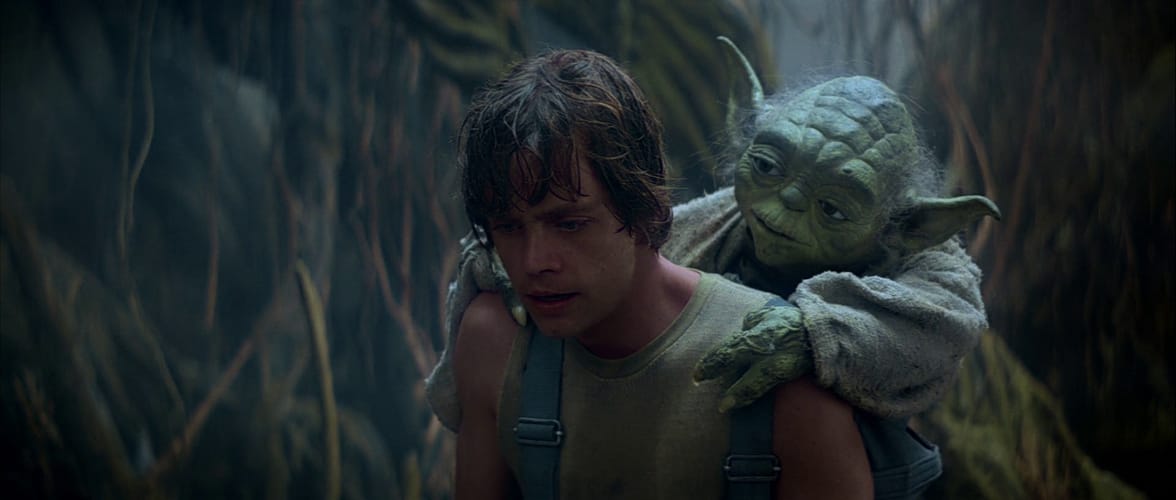 A New Hope was produced for a meagre sum, and barely any executives at 20th Century Fox had any faith in the production. But the extraordinary box office performance led to a generous budget boost for The Empire Strikes Back, and as a result this is a more polished, visually striking endeavour. The crew did not have to take as many shortcuts this time, with production design and special effects looking as slick and impressive as ever. Even by 2015 standards, The Empire Strikes Back looks extraordinary, with its reliance on practical effects and location shooting affording the film a tangible, realistic visual aesthetic, while the proficient sound design gives vivid life to this sci-fi fantasy world. Moreover, the spectacular action sequences are also hugely exciting, from the riveting Hoth battle to an exhilarating asteroid field chase, as well as the climactic lightsaber duel between Vader and Luke that doesn't disappoint in the slightest. What's especially notable about the Luke/Vader conflict is that it's not all about fancy fight choreography, as the duel actually means something and is brimming with emotion and drama. Consequently, it's one of the greatest sequences in the Star Wars saga. Furthermore, The Empire Strikes Back is given an additional boost in the form of John Williams' enrapturing original score. Williams creates an array of effective themes beyond the insanely memorable Star Wars title music, perfectly accompanying the spectacular visuals. It's hard to imagine Star Wars being as exhilarating as it is without the iconic soundtrack.
The acting here is a bit more refined, with Hamill in particular seeming more comfortable in the role of Luke Skywalker. Since The Empire Strikes Back is a darker movie, the characters are given more depth than before, and Hamill's performance during the emotionally devastating climax is really remarkable. Meanwhile, Ford remains effortlessly cool, embodying the kind of edgy, badass hero that all kids aspire to be. The movie also introduces Billy Dee Williams, who's another bright spot playing Han's old friend Lando. But the best newcomer here is fan favourite Boba Fett. The design of Fett's trademark armour is iconic, while his badass demeanour and imposing voice solidifies his status as a memorable character. Fett is perfectly voiced by Jason Wingreen; we will ignore that his voice was replaced with Temuera Morrison for the DVD release in 2004, with the change being carried over to the movie's Blu-ray debut. Admittedly, though, this is the only overly vexing alteration that Lucas has applied to the movie, with the minor digital touch-ups actually serving to bolster the already impressive visuals.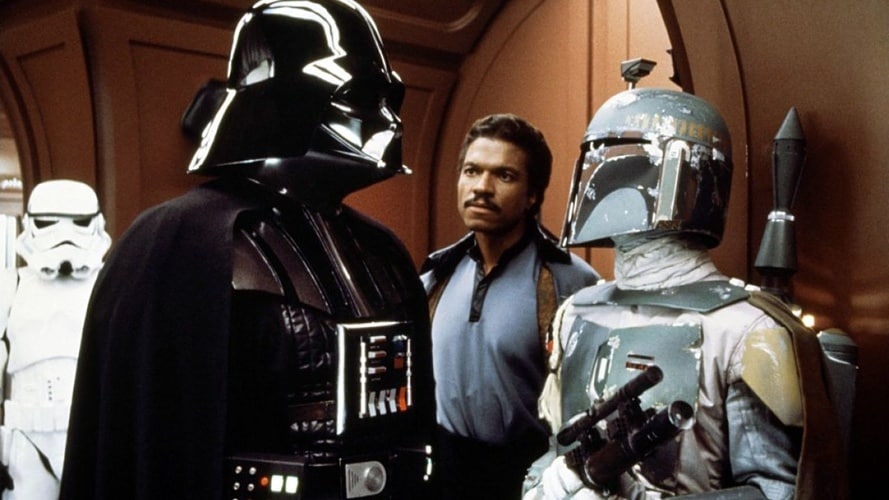 Everything in The Empire Strikes Back simply works, from the flawless action sequences to the incredible visuals and memorable characters, while its thematic undercurrents elevate it above more run-of-the-mill blockbusters. As with A New Hope, some content does border on the cheesy side, yet it's sold with so much sincerity that it's not bothersome at all. This is a superlative movie; the darkest, deepest, most mature and most thoughtful instalment in the Star Wars franchise to date. It's a rare type of classic blockbuster that can be adored by film fans and critics alike without needing to rely on nostalgia, as it confidently holds up years later. If anything, the movie is more breathtaking in 2015 simply because of how convincing the visual effects still look, despite being executed in 1980.
10/10