"Wouldn't it be crazy if the music had something to do with demons?"
2015's Deathgasm is very much a throwback horror picture, with New Zealand writer-director Jason Lei Howden creating an excessively gory splatter flick clearly inspired by the likes of Evil Dead, Bad Taste and Braindead, among others, with a dash of heavy metal music for good measure. A gleefully off-the-hook horror-comedy, it's the helming debut for Howden, a visual effects artist who worked on Peter Jackson's The Hobbit trilogy, among many other big-budget productions. The joys of Deathgasm are hard to deny, as it's teeming with humour and tongue-in-cheek gore, while the story is also enhanced by the nuances of life as a young metalhead. It's a total gas for those who enjoy these kinds of low-budget indie horrors, easily exceeding many of the more generously-budgeted scare-fests of 2015.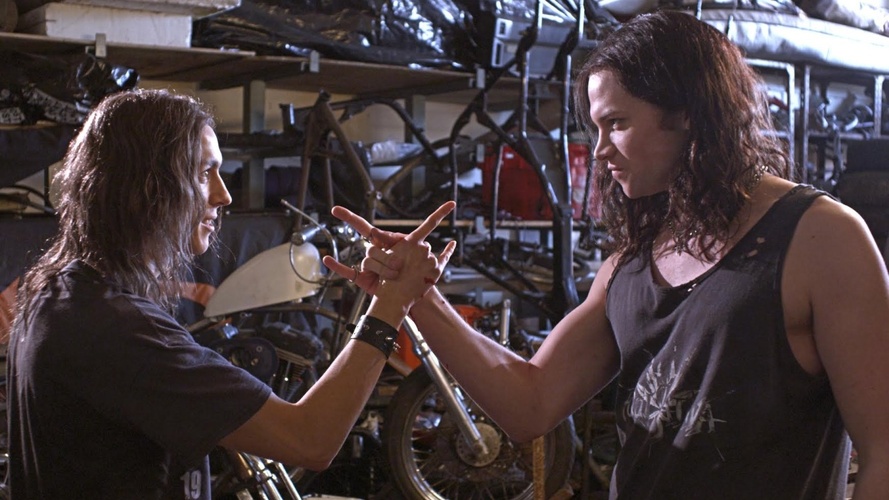 When his drug-addicted mother is put into a mental hospital, teenager Brodie (Milo Cawthorne) is sent to a nowhere town to live with his conservative Uncle Albert (Colin Moy) and bullying cousin David (Nick Hoskins-Smith). Brodie immediately struggles to fit in, but he soon bonds with aspiring musician Zakk (James Blake), who has a comparable interest in death metal. The pair soon decide to form a metal band called "Deathgasm," also recruiting fellow outcasts Dion (Sam Berkley) and Giles (Daniel Cresswell), who love to play "Dungeons & Dragons." Brodie also befriends the beautiful Medina (Kimberly Crossman), who usually dates arrogant jocks. Stealing a mysterious music sheet from aging rocker Rikki Daggers (Stephen Ure), Brodie and his friends perform the song therein, but in the process accidentally unleash demonic forces upon the town.
Visual language is used to get across the characterisations and the light-hearted tone in no time, with Brodie and Zakk's love for metal influencing their looks, and there's even some brief animation resembling notebook doodlings. Howden has stated that there is an autobiographical slant to the story, imbuing Deathgasm with a specific interest in, and affection for, death metal. Brodie is based on Howden's experiences as a metalhead teen, lending a certain believability to the portrayal of the teenagers which makes them feel real, and it helps that Howden has a talent for writing amusing dialogue and sly gags (including a creative Rick Roll joke). There are some amateurish performances here from the supporting players in particular, but Cawthorne (whose filmography also includes Power Rangers R.P.M.) is a smart choice for the role of Brodie, even if he does look more like a twenty-something than a teenager. Another huge asset is Kimberly Crossman (another former Power Ranger) playing the token love interest; she's disarming, and it's believable that all the boys in school lust after her.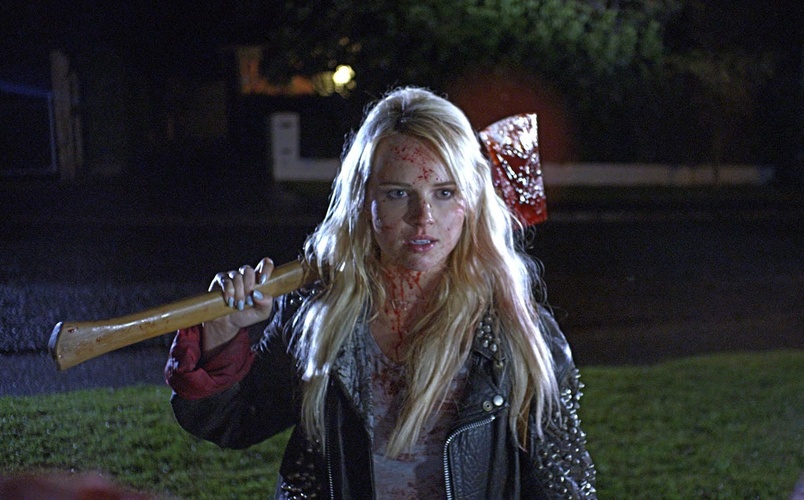 In its opening act, Deathgasm is all about youth problems and heavy metal, but once the cursed sheet music is performed by the titular band, demons are unleashed and the movie becomes a gleefully over-the-top splatterfest, taking palpable inspiration from the Evil Dead series as well as Peter Jackson's early cinematic efforts. Once the main characters recognise the threat, they take up makeshift weaponry, including chainsaws, a grass trimmer, axes, and even sex toys, sustaining an atmosphere of cheeky mischief as possessed townspeople are disembodied in inspired acts of exaggerated ultra-violence, brought to life through old-school practical special effects. Howden may be a digital VFX artist, but he recognised the importance of practical effects in a production of this ilk, even hiring the New Zealand-based special effects company who worked on both the Evil Dead remake and the Ash vs. Evil Dead TV show. The tone for Deathgasm is spot-on - it's neither a jokey farce nor an uncomfortable gore-fest, with Howden achieving the right tongue-in-cheek approach while still treating the material with sincerity. Also beneficial is Simon Raby's smooth cinematography which effectively captures all the bloody mayhem without resorting to shaky-cam, while heavy metal songs dominate the soundtrack.
For the most part, Deathgasm succeeds as a fun, raucous romp, remaining juvenile and madcap as the craziness unfolds, but the movie begins running out of steam into its third act, with a few unnecessarily dramatic story developments threatening to hinder the fun vibe. It should be an easy sprint to the finish line, but momentum is halted at the wrong time, and the lag is felt. Plus, although the climax is excessively splattery, it's not quite as adept as the rest of the picture, with Howden struggling to maintain authority over the material. Still, some of these shortcomings are understandable given the low budget and the restricted shooting schedule. For what it is, Deathgasm is an agreeable, funny, entertaining throwback horror-comedy. And be sure to stick around until the end of the credits for an additional scene.
7.1/10