"Don't be soft. Do you think America give a flying rats ass about you or me? America doesn't bail out the losers. America was built by bailing out winners. By rigging a nation of the winners, for the winners, by the winners."
In the same vein as writer-director Ramin Bahrani's previous motion pictures (Chop Shop, Man Push Cart), 99 Homes is a hard-hitting drama which comments on the difficulties of surviving in today's economically unstable world. More specifically, 99 Homes is about the events which took place during the recent housing crisis in the United States, when many helpless families were evicted from their residences. It's fertile territory, serving as something of a companion piece to the likes of 2011's Margin Call and Adam McKay's 2015 Oscar contender The Big Short. But while it's concerned with lofty subject matter, 99 Homes does not play out like a stuffy lecture - rather, it's a powerful human drama with things to say about contemporary capitalism, showing how good people can be swallowed up by greed.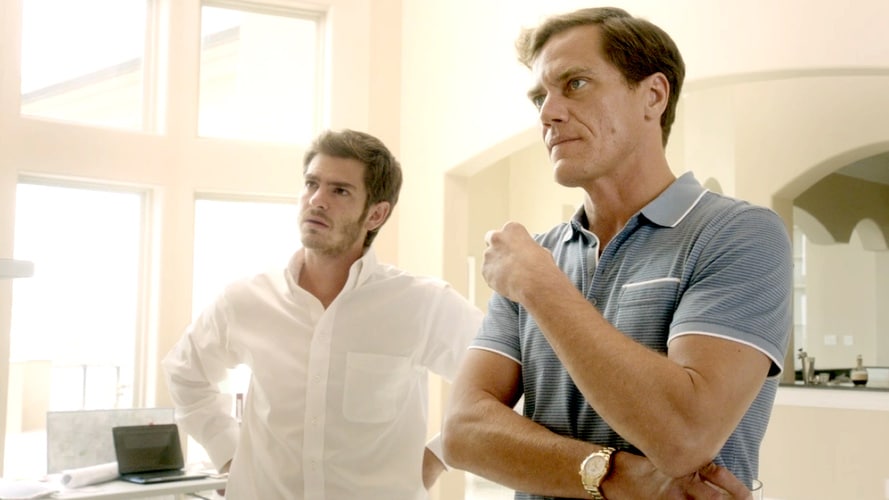 A construction worker in Florida, Dennis Nash (Andrew Garfield) struggles to find stable work and cover his debts, trying his hardest to retain his family home where he lives with son Connor (Noah Lomax) and mother Lynn (Laura Dern). Despite Nash's best efforts, the bank forecloses on his home, and he faces the cold-blooded wrath of opportunistic real estate agent Rick Carver (Michael Shannon), who makes a lot of money from collecting properties. Heartbroken, Nash takes his family to live in a dingy motel to join others in similar circumstances, hoping to one day win back his former home. Desperate for work, Nash receives an unexpected job offer from Carver, who's in need of people to do manual labour on foreclosed homes. The deal is too good to pass up, with Nash earning stacks of money by evicting helpless families and exploiting the government system, but his conscience begins to trouble him as he's drawn deeper in Carver's dark empire built out of other people's misfortune.
What ensues is very reminiscent of Oliver Stone's Wall Street, with Nash being drawn into an immoral world for the sake of riches, questioning his integrity at every step. The key difference between the two films, however, is that Nash operates for survival, rather than pure greed. The brilliance of Bahrani's approach to the story is that he examines both sides of the coin, shining a light on the plight of the hardworking individuals struggling to keep a roof over their heads, as well as Carver, the numbed real estate agent who warns against the perils of debt. 99 Homes is most fascinating when it concentrates on Carver in action and shows his process, but the movie is less successful when it's about specific individuals. Bahrani keeps the movie afloat with his focused storytelling, but a climactic standoff is a bit much, and sometimes the script feels a bit too pat for a subject matter as utterly dense as this.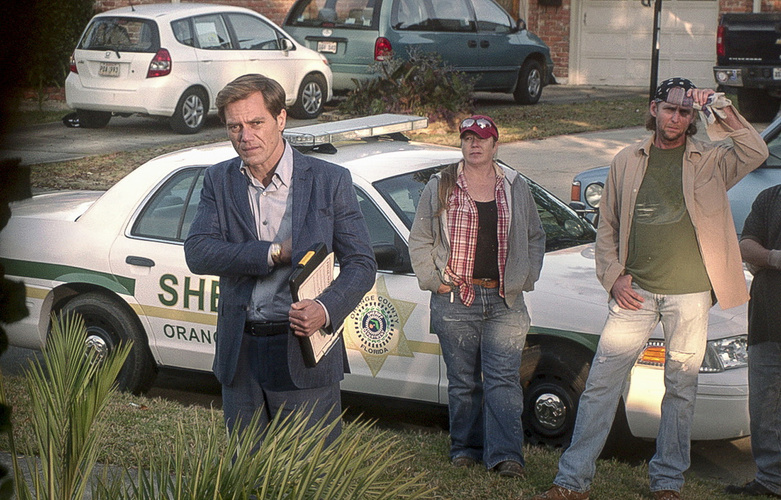 99 Homes may be 110 minutes, but it moves at an exceptionally brisk speed, thanks in no small part to the raw handheld cinematography, expert framing, and the pounding original soundtrack by Antony Partos and Matteo Zingales. The craftsmanship on display is simply superb, doing justice to this thematically dense drama. Of particular note is the truly bravura scene of Dennis and his family being evicted by Carver and his hired police officers, who are cold to their pleas of mercy. It's a heart-wrenching, riveting sequence which effectively conveys the shame, horror and emotion of an eviction, and it generates a real sense of loss as the powerless residents are forced to vacate their long-time home.
At the centre of this story is an exceptional cast, with Bahrani extracting focused performances from the entire ensemble. Coming off his limited run as Spider-Man, Garfield shows himself to be a talented thespian worthy of Oscar consideration, placing forth his most nuanced work to date as Nash. It's a tricky role to play, but Garfield does it justice, managing to keep us on his side despite what he's forced to do, showing that he has a conscience and simply wants to keep his family afloat. Powerful moments abound, including a number of heartbreaking scenes in which Nash is forced to evict helpless people but finds himself dangerously unconfident. But it's Shannon who walks away with the entire movie as the emotionless Rick Carver, who puts aside all sentimentality as he carries out his dire duty. Shannon is commanding and enthralling, but never showy, managing to carve out a villainous character that's not just one-note. Superb support is also provided by Dern, who plays very well alongside Garfield.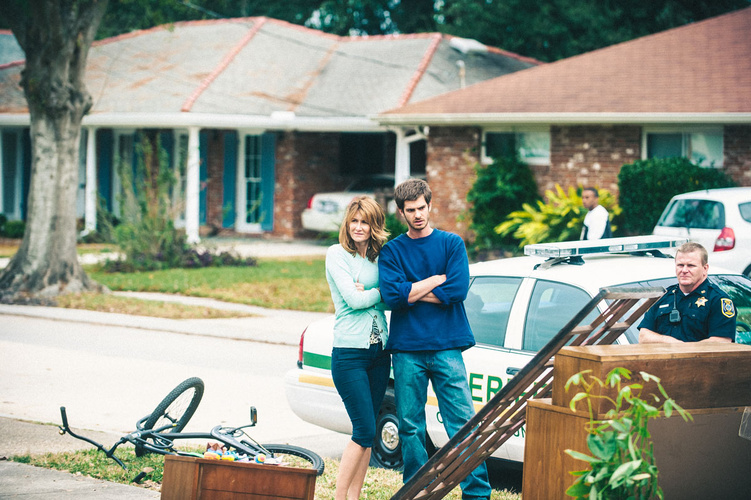 Smartly, Bahrani does not concern himself with the convoluted intricacies of the stock market or real estate loans, which would have more than likely murdered the strong pacing. 99 Homes instead concentrates on how the end result affects families while certain individuals continue to get rich, making for a fascinating examination of a world that we rarely get to see in motion pictures. Even though it does fall short of perfection, it's a timely and important fictional drama with real-life underpinnings, and it absolutely must be seen.
8.2/10