"Well, if she's not a ghost then what is she?"
Another low-budget fright film from Australian producer James Wan, 2016's Lights Out is one of the superior horror offerings of the year, and that's not simply by default. This feature debut for filmmaker David F. Sandberg is a slick, taut, well-made thriller featuring likeable characters who don't act like complete idiots, and it doesn't insult audience intelligence, which is a minor miracle. Whereas Wan's recent The Conjuring 2 clocked in at over two hours, Lights Out runs a refreshingly lean 75 minutes, with very little in the way of narrative flab. It's a taut succession of genuinely frightening set-pieces bolstered by strong performances and focused direction, and the dramatics of the story are more effective than expected. For a minor $5 million production, it does its job extraordinarily well.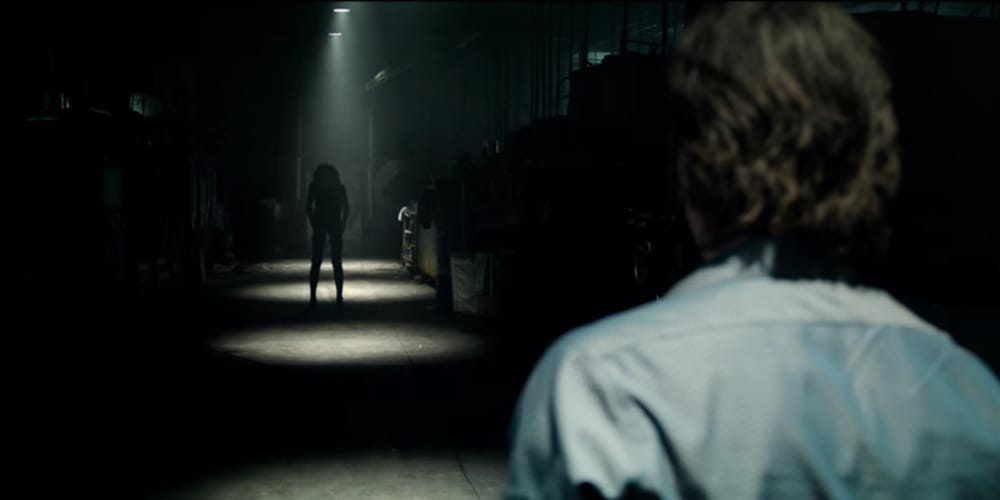 A twentysomething woman with severe intimacy issues, Rebecca (Teresa Palmer) has distanced herself from troubled mother Sophie (Maria Bello), who has long battled mental illness. Off her meds, Sophie gets worse after the mysterious death of her second husband Paul (Billy Burke), staying up all night and communicating with a malevolent entity she calls Diana (Alicia Vela-Bailey), who can only materialise in darkness. Rebecca's brother Martin (Gabriel Bateman) develops insomnia due to his fear of Diana and starts falling asleep at school, which forces Rebecca to get involved, taking her sibling back to her apartment to protect him. But simply going across town is not enough to deter the sharp-clawed wraith, and Rebecca becomes determined to uncover the mystery surrounding Diana.
A feature-length adaptation of Sandberg's 2013 short movie of the same name, Lights Out uses a unique premise which cleverly exploits humankind's innate fear of the darkness. Since Diana cannot attack whenever a functioning light source is available, many of the movie's most nail-biting moments involve characters struggling to turn on any sort of light to save their lives - not just lamps or overhead lights, but smart phones and car headlights are used as well. To Sandberg's credit, he establishes the rules surrounding Diana and strictly adheres to them, finding intense moments in exploring the often shallow border between light and dark. As with any horror film of this ilk, the protagonists set out to uncover the mystery surrounding Diana, but thankfully the reveal of her backstory in no way undermines her effectiveness as a monster. Furthermore, the familial dramatics serve to enhance the story, making this more than just a more run-of-the-mill horror offering.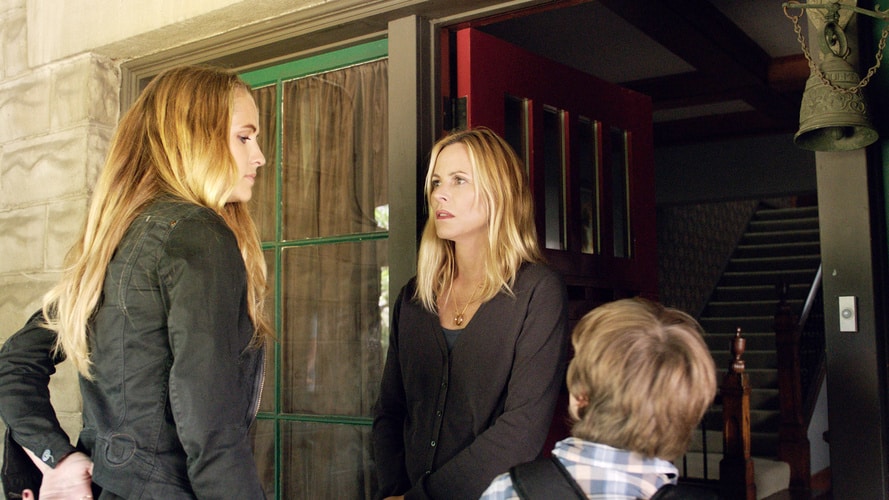 Prior to making his directorial debut here, Sandberg had only helmed shorts, and repeatedly found himself unable to secure funding from the Swedish Film Institute. Yet, his inexperience with features is never evident at any point throughout Lights Out, which is endowed with staggering assurance and authority, especially with the layered, eye-catching cinematography by Marc Spicer (Furious 7). Sandberg may indulge in certain genre clichés and tropes, but such aspects are sold with genuine vigour to make them work. Take, for instance, Diana's first appearance in the opening sequence: an office worker turns off the lights for the night, only to see an intimidating figure silhouetted against the dim light of the next room. When the lights are flipped back on, Diana is gone. But with the lights off, the silhouette returns. The worker begins turning the lights on and off, until Diana is suddenly closer. It's a predictable moment, but on Sandberg's watch, it's terrifying nevertheless.
Lights Out doesn't muck around, working through a fast-paced routine of scary scenes intercut with character drama and investigation before spending its third act holed up inside Sophie's home, leading to a consistently riveting extended sequence as the characters find whatever they can to remain in some degree of light as Diana comes after them. More importantly, the tautly-edited climax is a immense fun, with scares and tension aplenty. Don't let the PG-13 rating fool you - Lights Out may not be bloody or gory, but Sandberg manages to frighten using unnerving sounds and images.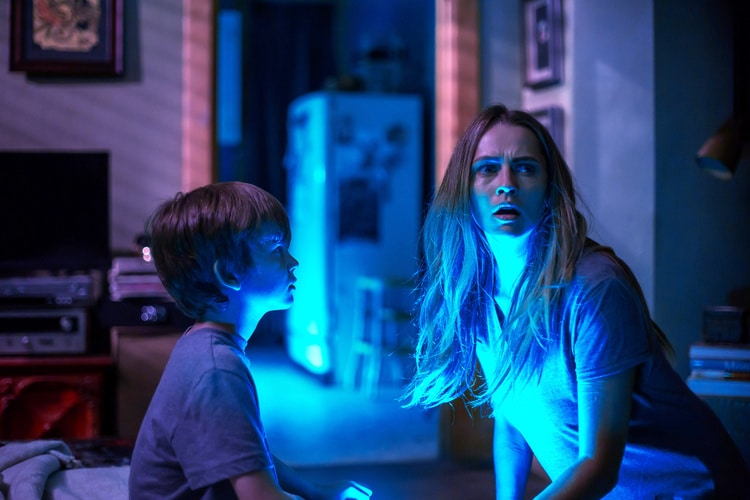 Performances are strong right down the line, led by Australian actress Palmer, who manages to sell fear and dread without breaking a sweat. It's a small cast, and thankfully all the actors help to maintain Sandberg's vivid illusion. The only real issue with Lights Out is its abrupt ending, which makes the resolution of the story almost feel too easy. It's not a deal-breaker, thankfully, and again the movie's tautness is a gift in an age of overcomplicated horrors, but the ending is a tad jarring nevertheless. Lights Out is a real keeper in spite of its shortcomings, signifying the exciting arrival of a new filmmaking talent, though it remains to be seen if it winds up sullied by endless sequels like most horror movies these days.
7.2/10