"God must have some kind of plan to teach me some kind of lesson. I just can't figure out what it is."
Southpaw is more or less an R-rated Rocky flick situated in a contemporary setting, but I do not use that designation to be flippant nor entirely critical. Even though the similarities to Rocky are undisputable, director Antoine Fuqua and writer Kurt Sutter have nevertheless created a solid sports drama taken on its own merits, buoyed by exceptional performances across the board and a sense of realism that's enormously appreciated. Southpaw is the kind of drama that manages to be entertaining as well as affecting, and though it may not be a serious awards contender, it has more replay value than the usual Oscar bait.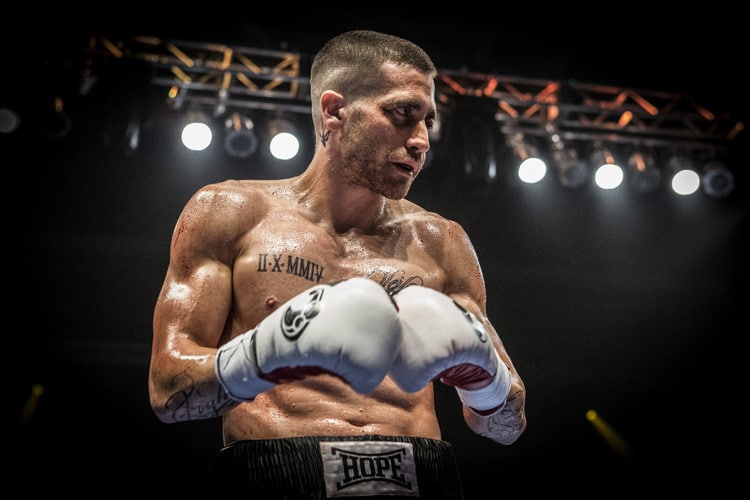 Light heavyweight boxing champion Billy Hope (Jake Gyllenhaal) is riding high, with a hugely impressive undefeated record after forty-three bouts, and a vast fortune that allows him to live comfortably with devoted wife Maureen (Rachel McAdams) and young daughter Leila (Oona Laurence). At a charity function, Billy's anger issues unfortunately get the better of him, with fellow fighter Miguel Escobar (Miguel Gomez) baiting him into a burst of violence, leading to a scuffle that accidentally puts Maureen in the line of fire. Left utterly devastated, Billy's life begins to unravel, with suicidal tendencies and substances abuse exacerbating the situation, while his professional boxing license is suspended after he head-butts a referee. Worse, he runs out of money, loses his house, and Leila is taken away by child services. Left with nothing, the volatile boxer seeks to rebuild his broken life, turning to veteran gym owner Tick Wills (Forest Whitaker) for his chance at redemption.
Scripted by Kurt Sutter, there's little doubt that Southpaw is a formulaic sports drama, taking its cues from the Rocky series in particular. Indeed, the fall from grace and the death of Maureen brings back memories of Rocky III and IV, while the subplot of Billy losing his fortune seems reminiscent of Rocky V. Worse, even though the picture runs a sizeable two hours, it does feel undercooked from a dramatic perspective; the police investigation into Maureen's killing leads nowhere, Tick's willingness to take on Billy needed more motivation, and the script abandons the punch-drunk aspect of Billy's boxing career that Maureen brings up early in the movie. Furthermore, the ending falls short - the film tries to avoid the obvious outcome, instead opting for an alternative that's just as predictable and overused. But although Southpaw has its obvious shortcomings, it miraculously manages to stay afloat thanks to the execution, with Sutter and Fuqua carving out compelling characters that are easy to latch onto.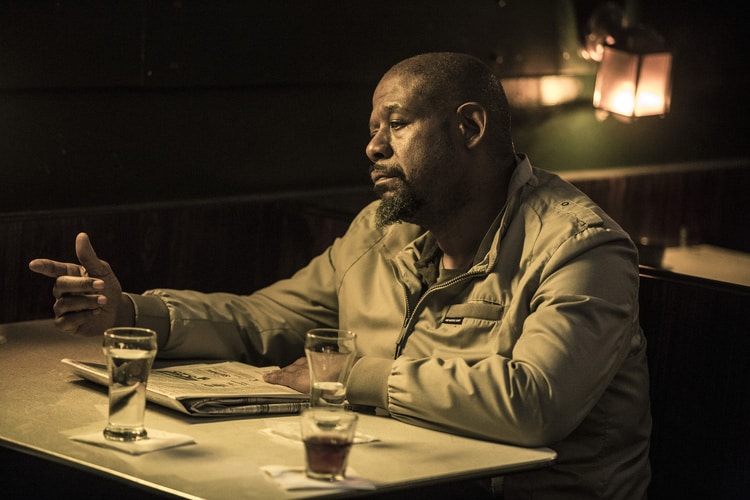 Whereas the Rocky films are a bit more family-friendly, Fuqua pulls no punches here, creating a visceral, distinctly adult boxing movie, in terms of violence, content and themes. Even though Southpaw can be dour as it observes Hope's dark side, Fuqua displays appropriate tact, preventing the movie from deteriorating into an uncomfortable watch. Furthermore, Fuqua has continually shown he has a keen eye for action, and while this isn't exactly an action flick, the boxing sequences truly are a sight to behold. Visceral and hard-hitting, not to mention proficiently shot by cinematographer Mauro Fiore (The Equalizer) whose shallow-focus camerawork captures every drop of blood and sweat, it's easy to become invested in the boxing bouts throughout the picture, and it's even easier to root for Hope to succeed in the ring. The late great James Horner actually agreed to score the picture for no money, as he was touched by the story and Fuqua had limited funds left in the budget for music. As to be expected, Horner's contributions are exceptional, with subtle, tender, emotive notes which gently enhance the movie's power. Even the Eminem songs suit the movie, which is a rare compliment. (Eminem was originally slated to play the lead role, but that thankfully did not pan out.)
Gyllenhaal's career has had its ups and downs, but Southpaw continues the performer's recent winning streak after his exceptional work in movies like End of Watch and Nightcrawler. This is career-best work for Gyllenhaal, who throws himself into the role of Billy Hope with total conviction; he trained for months to get in proper shape, and he believably handles the layers of the character. Indeed, he's believable as a beefy, aggressive man of below-average intelligence, and he's still convincing as Billy rehabilitates himself over the course of the movie. There isn't a single moment throughout the film in which Gyllenhaal displays any trace of artifice, with the illusion being unfailingly maintained. McAdams also leaves an indelible impression, while newcomer Oona Laurence is one of the most convincing child stars in recent memory. The first act of the movie properly introduces Billy, Maureen and Leila, creating authentic characters and a believable familial unit, and the scene of Maureen taking a stray bullet is extremely powerful. Maureen's demise is utterly wrenching to watch, with tremendous performances and a harrowing sense of realism. Southpaw also benefits from the presence of Whitaker, a reliable thespian who breathes incredible life into the role of Tick Wills. Fuqua even manages to coax a watchable performance out of 50 Cent, a miraculous achievement in its own right.
Due to its narrative shortcomings, Southpaw falls just short of reaching the upper echelon of boxing dramas, but it is a respectable effort that's worthy of recent Oscar-nominated movies like Million Dollar Baby and The Fighter. It's another winner for director Fuqua, who has established himself as a reliable purveyor of masculine entertainment.
8.0/10