"Boys I know you can hear me. You are in a whole lot of trouble."
2015's Cop Car is the second feature film from director Jon Watts, whose debut endeavour, the intensely creepy Clown, began as a fake YouTube trailer that developed into a viral sensation. With Watts now tapped to oversee the next cinematic outing for Spider-Man over at Marvel, attention will no doubt be drawn to his initial low-budget indie endeavours. Cop Car is best described as a slightly simplified Coen Brothers movie in the vein of No Country for Old Men, Blood Simple and Fargo, with muted performances, plenty of atmosphere, prolonged passages of stillness, and relentless violence, examining the dire price of a mistake. For those with the patience to sit through the movie, it's enormously rewarding, especially with a finale that's both intense and difficult to forget.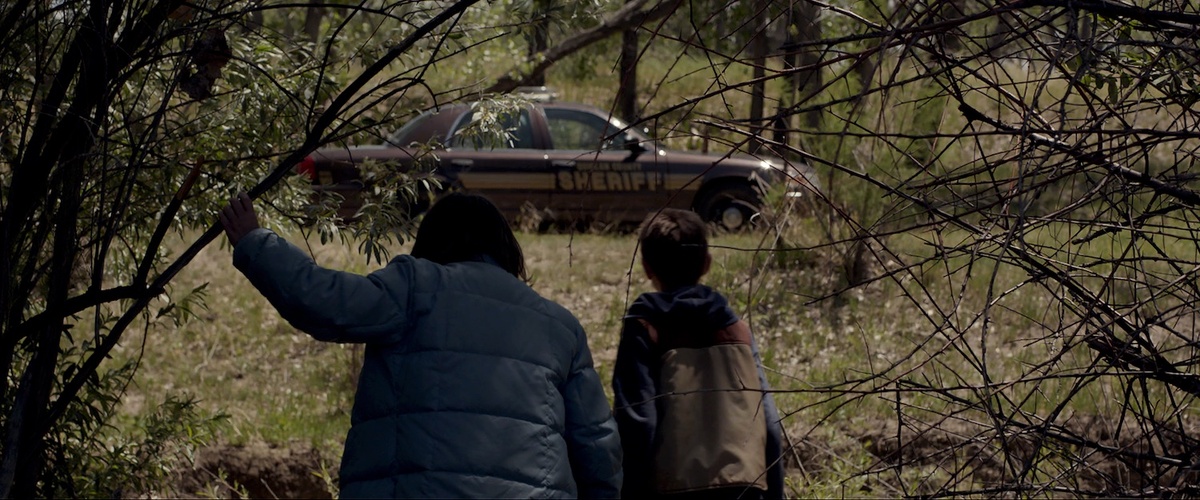 Whilst hiking through the middle of nowhere one afternoon, bored young boys Travis (James Freedson-Jackson) and Harrison (Hays Wellford) happen upon a sheriff cruiser, which piques their curiosity. Unattended and with the keys still in it, the pair take advantage of the situation, taking the cop car on a joyride for a once-in-a-lifetime adventure. The owner of the automobile is a certain Sheriff Kretzer (Kevin Bacon), a corrupt cop who's knee-deep in criminal activities and is determined to recover his vehicle, all the while endeavouring to keep the entire incident a secret from his colleagues.
Cop Car is grounded in a sense of reality since Watts visibly understands children. The picture briskly establishes Travis and Harrison as preteen boys without a stable home life, traversing the dusty landscapes to alleviate their boredom. They aren't juvenile delinquents or rebels, but rather regular boys with heightened imaginations, perceiving the car as a really fancy plaything. Better yet, their dialogue and actions are naturalistic and believable. With it being so easy to latch onto the pair, the narrative is nail-biting, particularly since Travis and Harrison are naïve about the grave danger and consequences of this situation that any adult would be able to recognise. There's even a scene in which they find a cache of firearms and try out a bulletproof vest - it's uncomfortable to watch because we as viewers know the potential consequences, but it's precisely what would transpire if ten-year-old boys had access to such items without adult supervision.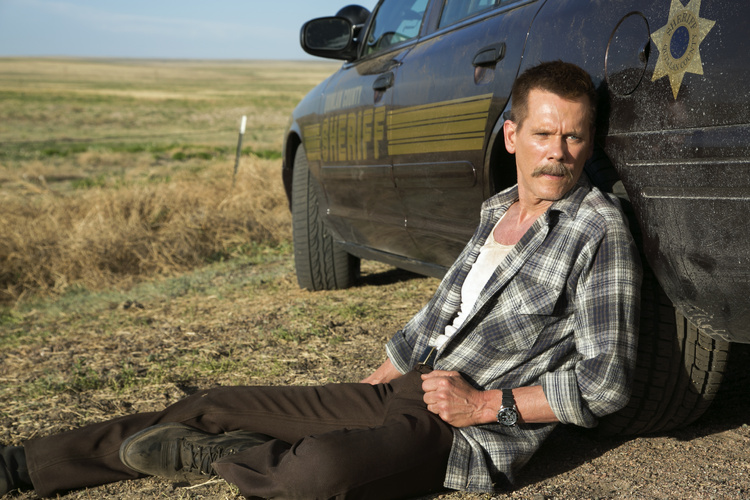 To an extent, Cop Car feels like a coming-of-age indie movie, with the perils of the real world corrupting the innocence of youth. Watts favours mood and visuals over excessive dialogue, which may test viewers without the patience to give the movie a chance. But with accomplished cinematography, first-rate direction and taut editing, Cop Car is easy to become invested in; the filmic spell retains a mesmerising hold. Tension also runs rampant, leading to a shootout that winds down the story on an intense note. Miraculously, the gunplay doesn't feel out of place, as this world is established as a violent and brutal place, and it helps that the technical presentation is outstanding. But while there is a bit of dark humour, one cannot help but wonder what the Coen Brothers would have made of this material - I would have preferred more black comedy.
The two child actors are a real find. Finding worthwhile preteen performers is always a challenge, yet Wellford and Freedson-Jackson are sublimely believable and never irritating. But it's Bacon who steals the show, which is no surprise. Sheriff Kretzer is a pure caricature, and Bacon sinks his teeth into the part, even sporting a moustache to amplify the sleaziness. The other notable member of the cast is Shea Whigham, giving Bacon a run for his money on the scenery-chewing front. Whigham making pitch-black threats towards the two boys is one of the greatest moments in the movie; it's so darkly comedic and must be seen to be believed.
The only issue with Cop Car is that it seems unsure of how to end, with the narrative pushing beyond its logical closure point, struggling to find a satisfying note on which to close. It doesn't entirely work, as it feels like the movie is starting to get away from Watts, but it's not enough to sour the experience as a whole.
7.3/10