"Guys, the police are gone! The military? They're not coming either. But tonight, we're showing what being a real scout's all about. We're just gonna stand here or we're gonna go save the world."
A curious amalgam of Zombieland, The Goonies and any number of John Hughes films, Scouts Guide to the Zombie Apocalypse is an amusingly-titled production full of potential, continuing the current media fascination with the undead. Following in the shadow of flicks like Cockneys vs. Zombies and Navy SEALs vs. Zombies, this particular endeavour pits socially awkward teens against hordes of flesh-eaters. However, in the hands of director Christopher Landon (last seen at the helm of 2014's abominable Paranormal Activity: The Marked Ones), Scouts Guide is not as hilarious or as taut as one might expect, only coming alive during isolated moments. It's a technically proficient horror-comedy, but it is a bit uninspired on the whole, lacking the spark of wittiness that has elevated similar productions.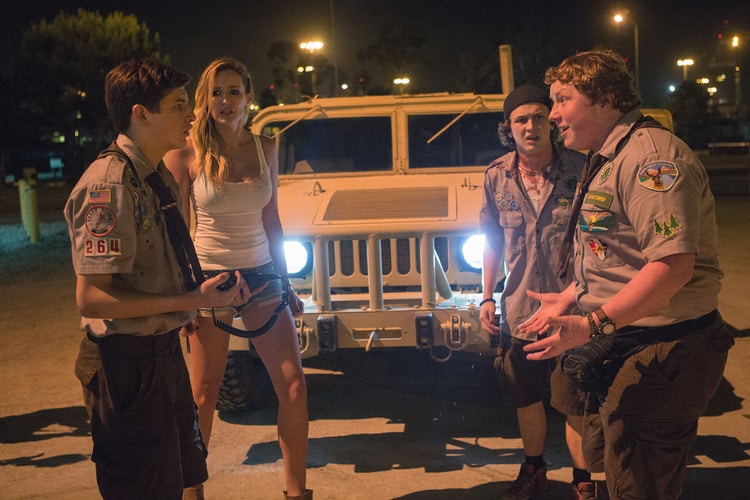 At a lab in suburban California, a resting zombie is disturbed by a careless janitor, leading to a plague outbreak that rapidly spreads across the town. Meanwhile, high school scout members Ben (Tye Sheridan) and Carter (Logan Miller) are preparing to attend a camp-out celebration with well-meaning pal Augie (Joey Morgan), which they intend to be their swan song as scouts. Invited to a secret senior party, Ben and Carter ditch Augie for the night, but soon find that the town has been overrun by bloodthirsty zombies. Teaming up with resourceful strip-club waitress Denise (Sarah Dumont), the two adolescent scouts brave the doomsday scenario as they attempt to find their way to the party, while Augie has his own experiences with the undead horde.
To the credit of screenwriters Carrie Lee Wilson and Emi Mochizuki (with input from Landon), Scouts Guide makes a genuine attempt to develop the core trio of teens in the first act to ensure that we have a reason to care about them when they're exposed to mortal danger. In spite of the inherent clichés, there is fun to be had and the characterisations are effective enough. However, there are a few too many ill-advised deviations into serious territory, including Augie's disappointment that Ben and Carter choose to not only ditch him, but leave scouts. It's an attempt to add a degree of heart to the proceedings, but it comes off as perfunctory rather than an organic constituent of the narrative. And while there are some funny moments here, Scouts Guide comes up short in terms of belly-laughs, which doesn't do the pacing any favours. The movie may be bite-sized at under an hour-and-a-half, but it's undeniably spotty.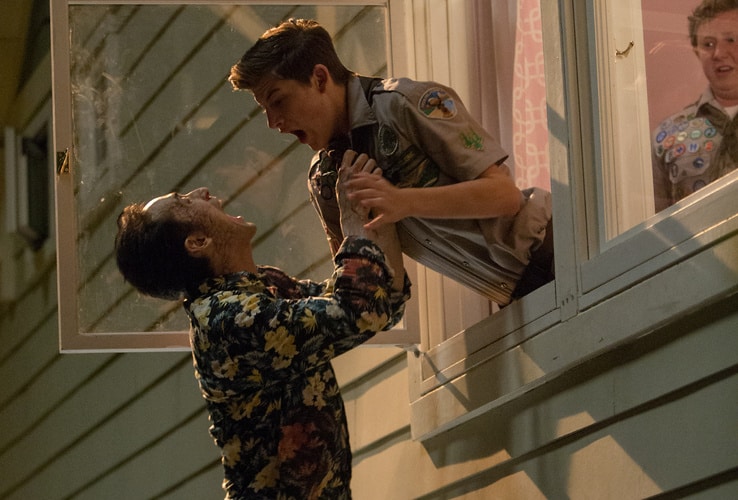 Nevertheless, Scouts Guide to the Zombie Apocalypse does hit its mark from time to time, with vignettes that revel in the type of silliness we would expect to see from a movie of this ilk. One of the more humorous plot digressions involves the boys' beloved Scout Leader Rogers (David Koechner), who shows up at various times throughout the night, while a zombie Britney Spears fan sings along to "Hit Me Baby One More Time," and there's a chase set to Dolly Parton's "9 to 5" in a fan's merchandise-laden home. Landon embraces the irreverent tone - there's one moment involving a zombie penis that amuses, and we get to see Cloris Leachman as a zombie who can't bite into anybody after losing her false teeth. It's all executed with style, benefitting from impressive zombie make-up and gore effects, and Scouts Guide also introduces its own recognisable brand of zombies. Acting across the board is respectable, particularly Sheridan, who grounds the movie by playing the material straight.
Scouts Guide to the Zombie Apocalypse has its moments and is enjoyable on the whole, but the problem is that it was produced in the shadow of funnier, scarier and wittier zombie comedies like Shaun of the Dead and Zombieland, who represent the gold standard for this subgenre. Furthermore, it's not as incisive or cutting edge as Cabin in the Woods. Still, the movie is not a total misfire, thanks to its competent direction and a number of energetic action scenes. The climax is particularly fun, with the troupe battling hundreds of zombies using whatever makeshift weapons they can find. Scouts Guide is easy viewing and it's not a waste of time, but it could have been superior in more assured hands.
6.1/10