"Knocking him down won the first fight. I wanted to win all the next ones, too. So they'd leave me alone."
Although the 1985 novel
Ender's Game
is a highly celebrated work of science fiction literature, its author Orson Scott Card is a genuinely awful person, with his controversial opinions leading many to detest the man, regardless of his achievements. Hence, the long-awaited
Ender's Game
motion picture arrives after decades of development with a tremendous pall of negativity hanging over it, with talks of a boycott in the fear that box office dollars will wind up in Card's back pocket. It's a legitimate concern, and it's understandable that some might baulk from giving money to Card due to his personal life, but
Ender's Game
is an exceedingly average picture even without this burden on its shoulders, and it's not worth seeing anyway. It's a handsomely-designed and ambitious film, but it's also dramatically flaccid in the hands of director Gavin Hood, whose storytelling is utterly uninvolving and cold to the touch. It wants to be a Spielbergian sci-fi extravaganza, but lacks the spirit and chutzpah to achieve lift-off.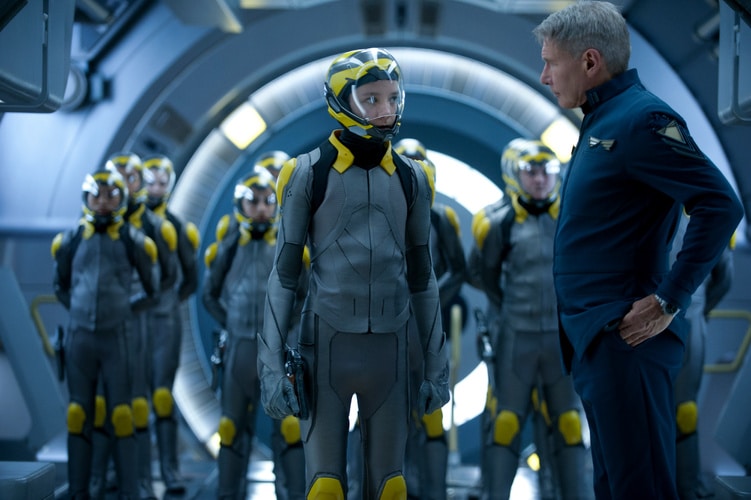 In the future, Earth is invaded by a fleet of otherworldly creatures, resulting in millions of human casualties and leaving the planet shaken. Decades on, all signs point to another invasion, leading to the formation of Battle School, where promising young children are sent to sharpen their skills in the hope of becoming mankind's saviour. Overseeing the school is Colonel Graff (Harrison Ford), who sees tremendous potential in young Ender Wiggin (Asa Butterfield), an outcast with a special tactical gift that puts him ahead of his competitive fellow students. Graff is convinced that Ender is the proverbial chosen one, but Ender has trouble fitting in, only eventually finding a kindred spirit in the cunning Petra Arkanian (Hailee Steinfeld).

Hood might have helmed the acclaimed foreign film Tsotsi, but his American track record is truly shocking, with the drab Rendition and the unredeemable X-Men Origins: Wolverine under his belt. Ender's Game again shows that Hood has a lot to learn. While the picture features all the requisite eye candy, it's a leaden experience on the whole. It takes a true visionary director to adapt a visionary novel to its full potential, like Stanley Kubrick's cinematic treatment of Arthur C. Clarke's 2001: A Space Odyssey. Hood's Ender's Game plays out like a flashy sci-fi film for young adults, rather than an adaptation of a groundbreaking novel. It feels too mainstream, and the screenplay even attempts to make connections to today's youth culture, with Ender playing games on a tablet computer and emailing his family (why not just call the emails "messages"?).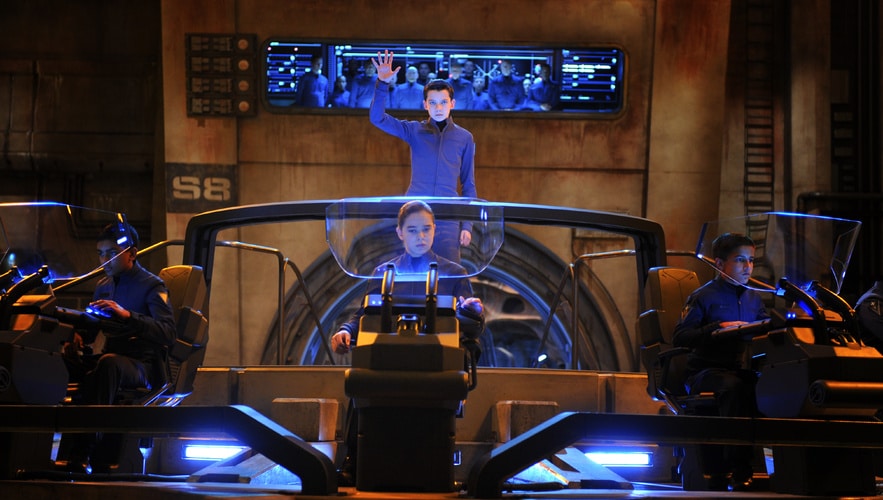 Ender's Game eventually takes a whole other direction once the climactic "twist" is introduced, but this segment of the picture doesn't entirely work. There are major logistical issues facing this conclusion, and the twist doesn't feel as weighty as it should. It should be a significant, mind-blowing moment that brings you to the edge of your seat, but instead it's a resoundingly flaccid reveal. Moreover, the story loses all sense of momentum and purpose from this point onward, and it feels like the writers don't quite know where to take things next. It's a fault inherent in the source material, granted, but it doesn't make this glaring issue anymore forgivable. Fans of the book may also dislike some aspects of the book-to-screen translation, most significantly in the fact that Ender is a tween here as opposed to the six-year-old from the novel. Furthermore, the film seems to take place over a few weeks or months, whereas Card's novel took place over a number of years. Perhaps most bothersome, though, is that Ender's family are given a reduced place in the narrative. Indeed, while his sister Valentine (Abigail Breslin) has a few scenes to shine, Ender's other family members are only given a couple lines of dialogue each.

Credit where credit is due, however, Ender's Game does spring to life in isolated moments. Hood gets particularly good mileage out of the training sequences, which are wholly engaging. A zero gravity battle room hosts many of the picture's standout set-pieces, especially a magnificent scene in which Ender is given the chance to test his leadership skills and smarts. The special effects are note-worthy across the board, with lavish production design helping to sell the expanse and luxury of this futuristic story. The acting is also predominantly solid across the board. Asa Butterfield is a good actor, and for the most part he acquits himself well as Ender. However, while he's an amiable presence, he unfortunately falls short with the finish line in sight. At the end, he's asked to achieve the type of acting that even Oscar winners would baulk at... And, suffice it to say, Butterfield may be good, but nobody is that good, which is likely one of the main reasons why the ending doesn't carry the significance or weight that it should. Meanwhile, Harrison Ford is reliably solid, with his usual gruffness serving him well as Colonel Graff. The remainder of the cast is decent, too, with Ben Kingsley, Viola Davis and Abigail Breslin all making their mark.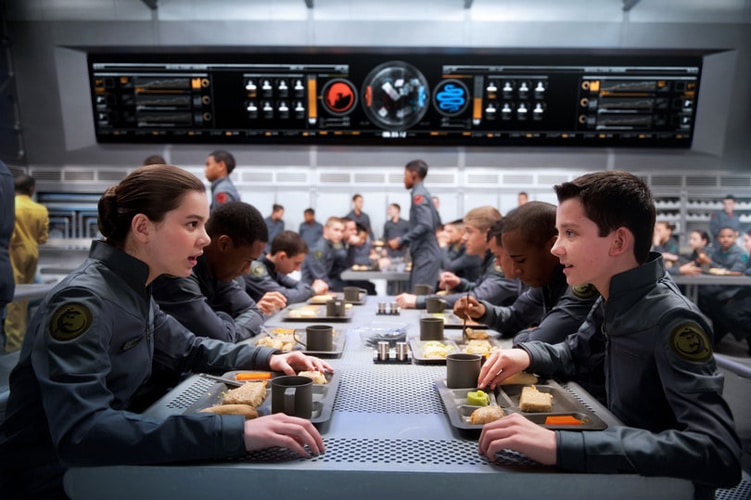 Ender's Game is an interesting failed experiment, but it's still a failure nevertheless, a real letdown considering how long the project has been gestating. The movie hedges its bets on sequels, but its woeful box office performance and lack of public interest has essentially spelt death to that plan, rendering this an unsatisfying standalone effort which needed a defter touch. Hood's film is not a visionary masterpiece, but instead a run-of-the-mill sci-fi blockbuster that tries to keep itself palatable enough to attract interest from broad audiences. Hood tries to grapple with all of the fascinating themes of the book, but it ultimately feels like a rote piece of work that does lip service to Card's intents.

4.9/10