A seminal, award-winning Australian film which remains a classroom staple across the country, 1976's
Storm Boy
is an adaptation of Colin Thiele's beloved children's book of the same name, telling a sincere coming-of-age tale steeped in Australian culture. Scripted by Sonia Borg (
Blue Fin
,
Dark Age
) and Sidney Stebel, this was the first theatrical feature for Paris-born filmmaker Henri Safran, who cut his directorial teeth on TV shows and telemovies. This is a rare type of children's film with the potential to appeal to both kids and adults, as the simple story is free of pandering touches (cute side characters, obvious humour) that might turn off mature viewers.
Storm Boy
is an enchanting human drama, permeated with subtle themes relating to ecology, Indigenous relations, family, and the importance of education, and it still holds up for the most part in 2019.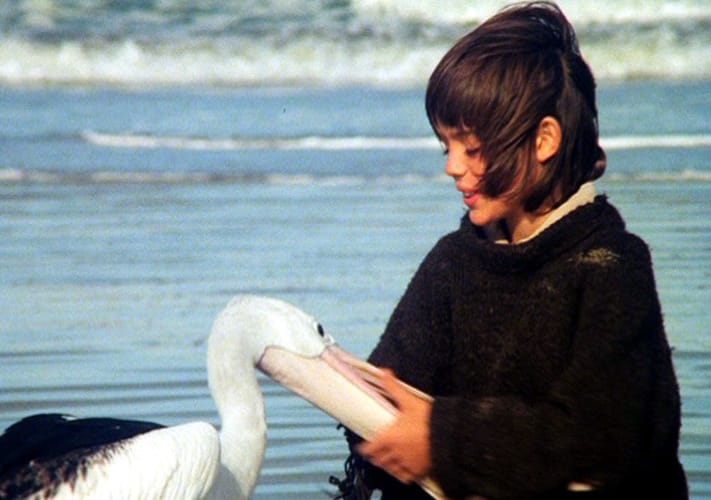 Ten-year-old Mike Kingsley (Greg Rowe) lives with his dad Tom (Peter Cummins) in a derelict shed on the Younghusband Peninsula in Coorong, South Australia, isolated from civilisation. Tom is a fisherman, able to make a modest living selling his catch in the local town of Goolwa. Mike does not attend school, as his father denies him the opportunity for an education, much to the chagrin of Goolwa Primary School teacher Miss Walker (Judy Dick) as well as the local park ranger (Tony Allison). A free spirit, Mike spends his time exploring the coastline, where he encounters Aboriginal recluse Fingerbone Bill (David Gulpilil) who is estranged from his tribe. Mike quickly takes to Fingerbone, who dubs him "Storm Boy" because he runs with the speed of an Indigenous person. When a pair of shooters kill several pelicans, Mike chooses to care for three orphaned pelican babies, affectionately naming them Mr Percival, Mr Ponder, and Mr Proud. Although Tom resents interference from the outside world, Mike begins to grow curious about what he's missing, which threatens the pair's reclusive existence.
Whereas the material is rife for Disney-esque manipulation and overzealous melodrama,
Storm Boy
plays out in an authentic, matter-of-fact cinematic style free of overbearing schmaltz, a decision which separates it from Hollywood pictures of a similar vintage and genre. Produced for a reported budget of just $260,000,
Storm Boy
inevitably appears dated to a certain extent, particularly in terms of the technical contributions, though that is not to entirely impugn the lush cinematography, the evocative location work, or the competent production design. Guided by Safran's careful, sure-handed direction, the film feels agreeably organic and lived-in, while the piano-rich original score by Michael Carlos subtly accentuates the material's sweetness and emotion throughout. It's just that, in 2019, moviegoers accustomed to polished contemporary cinema might have trouble getting into this Aussie classic. Admittedly,
Storm Boy
is not always engaging, and budget limitations are occasionally evident, but this is a minor knock against an otherwise fine movie.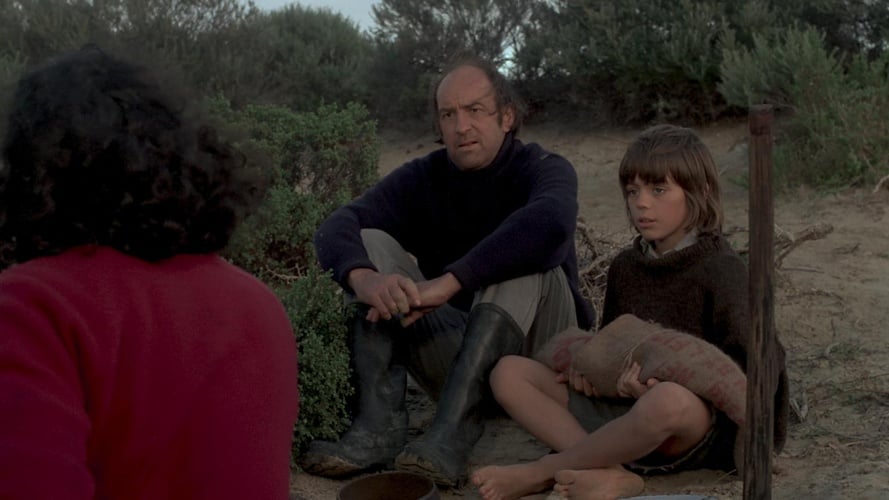 A small cast inhabits Storm Boy, but the actors all make positive impressions. In his film debut, Rowe fully commits to the titular role; he is thoroughly convincing, and - miraculously - never annoying. Veteran Aboriginal actor Gulpilil is likewise engaging, while Cummins is believable as Mike's stern father. Upon its release in 1976, Storm Boy demonstrated the viability of Australian cinema to the rest of the world; it was sold to over 100 international territories, which was a tremendous achievement at the time. Over forty years later, time has done little to diminish Storm Boy's power, charm and magic. The film was eventually remade in 2019.

7.1/10