"Like my father always said, a grenade a day keeps the enemy at bay."
The narrative thrust of 2016's Hardcore Henry is nothing out of the ordinary, but the "hook" is that it's a first-person action movie, shown entirely from the point of view of the titular cyborg. Russian filmmaker Ilya Naishuller makes his directorial debut here after making quite a splash online by testing the first-person technique in action-packed music videos which raised demand for a feature-length motion picture in the same vein. The result is fundamentally a 95-minute POV chase, with Naishuller staging as much first-person carnage as possible, from fisticuffs to shootouts to car chases. It should be an easy home run, but the experience is ultimately let down by an uninteresting story and too many tedious lulls between the action sequences.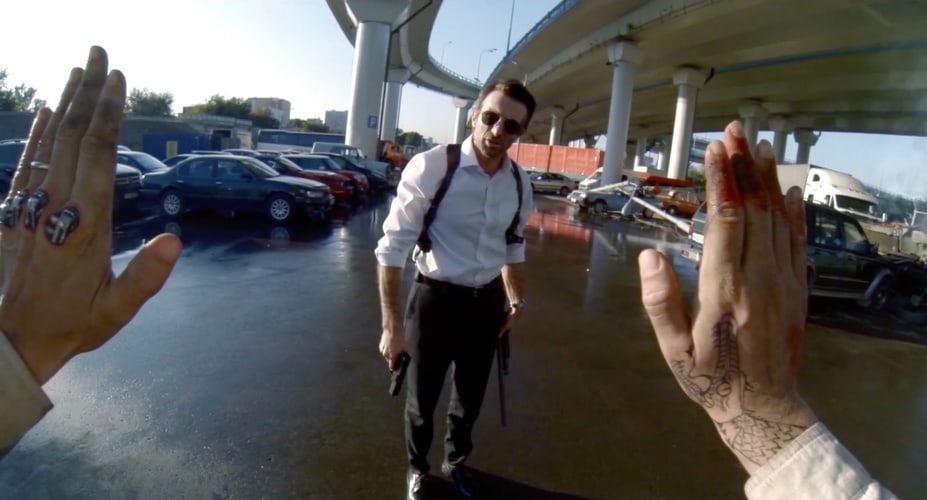 Informed that he has been saved from certain death, Henry (played by several stuntmen) wakes up in mysterious high-tech facility with missing limbs and absolutely no memory of who he is. Coming into view is Estelle (Haley Bennett), who claims to be Henry's wife, and who finishes his rehabilitative operation by fitting him with robotic limbs. When the facility is attacked and Estelle is taken prisoner by telekinetic supervillain Akan (Danila Kozlovsky), Henry goes on the run, pursued by dozens of Akan's heavily armed soldiers who seek to capture the special individual. The only person willing to help Henry is the rather strange Jimmy (Sharlto Copley), who's capable of regenerating into countless different bodies and personalities, never remaining deceased for too long.
The big downfall of Hardcore Henry is the convoluted story, which puts a damper on the sense of fun throughout. It's often tricky to unravel the narrative, and more explanation would have been beneficial in the grand scheme of things. It's worth nothing that Henry cannot talk and his face is never properly seen, thus no actor actually portrays the character - instead, he was brought to life by a team of crazy stuntmen. (Writer-director Naishuller even plays Henry in some scenes.) Commendably, though, it's still possible to empathise with Henry and want to see him succeed in his mission. The big acting standout is Copley, who also executive produced the film. Copley assumes many different personas throughout (some more effective than others), allowing him to ham it up when the occasion calls for it, and he even performs a fun doppelgänger-filled musical performance of Frank Sinatra's "I've Got You Under My Skin." Meanwhile, Bennett does well as Estelle, and Kozlovsky (a Russian heartthrob superstar) makes for a sinister villain. Tim Roth even shows up in a minor role as Henry's father.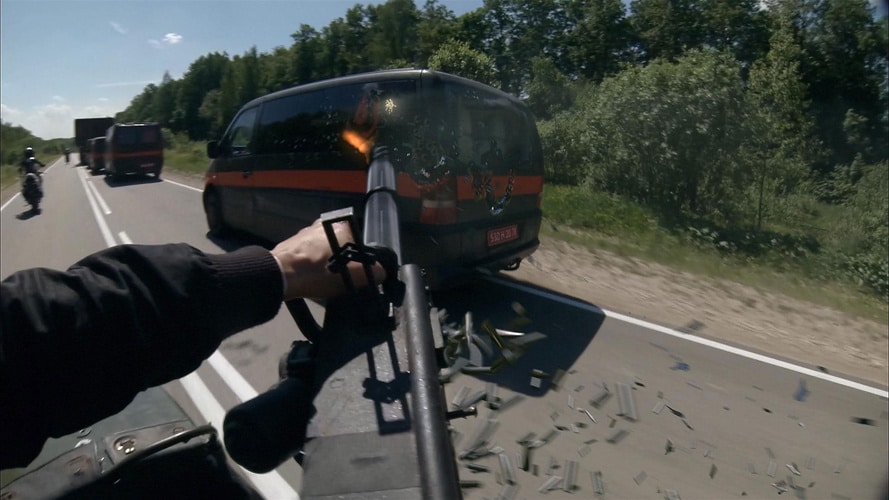 Produced for pocket change, Hardcore Henry was primary lensed using consumer-grade GoPro Hero 3 digital cameras, making for a rough-around-the-edges experience. With a team of eager stuntmen at his disposal, Naishuller orchestrates an over-the-top orgy of ultraviolence, pitting Henry against an endless supply of faceless goons who are beaten up, shot, and blown apart. Hardcore Henry is at its best during the fast-paced scenes of carnage, and Naishuller manages to vary the action sequences to sustain the picture's new car smell - on top of a standout sniper sequence and an insane car chase, there's even a set-piece involving a freaking tank, while helicopters and horses make appearances. Indeed, the movie is consistently creative in the action department, and Queen's "Don't Stop Me Now" is even used during the climax. Editing is often choppy and fast, with plenty of cuts as opposed to a more seamless experience, but this does not significantly detract from the consistently impressive action scenes.
Hardcore Henry is definitely a film for a certain niche. It's excessive and ridiculously violent, and there's nothing in the way of subtlety on display, but it does its job well enough and emerges as something unique in a very crowded contemporary blockbuster marketplace. In spite of its story issues, there are enough violent highlights to render the movie worth watching, especially for action junkies seeking a fix.
6.1/10