A loving ode to adolescence, garage bands, and '80s music,
Sing Street
is a delightful coming-of-age musical dramedy from acclaimed Irish filmmaker John Carney, late of 2007's
Once
and 2013's
Begin Again
. Returning to Ireland for another low-budget, homegrown indie, Carney's
Sing Street
is a lovely movie from top to bottom; an evocative, fantasy-tinged story about growing up and following one's passion, bolstered by an exceptional soundtrack. Although comparisons to
The Commitments
are inevitable due to the film's period Irish setting, it's closer to
School of Rock
or
Son of Rambow
, with a touch of John Hughes. However, the resulting film is a true original, stamped with Carney's distinctive cinematic idiosyncrasies.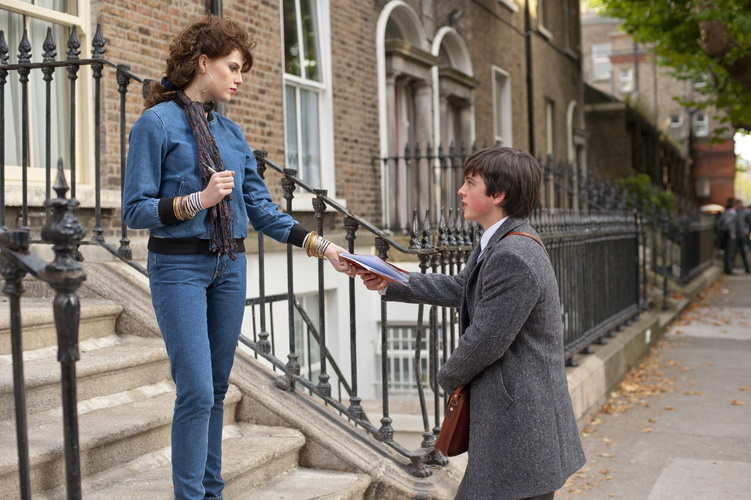 In 1985, economic times are tough in Dublin, with England seeing a rise in the number of Irish immigrants making the move to seek a brighter future. Teenager Conor Lawlor (Ferdia Walsh-Peelo) is taken out of his expensive private school due to his family's financial concerns, and moved to a Christian Brothers school, Synge Street. It's a struggle to adjust, with Conor drawing the wrath of a bully, Barry (Ian Kenny), as well as the school's tyrannical headmaster (Don Wycherley). However, Conor finds a glimmer of hope in slightly-older local beauty Raphina (Lucy Boynton), who aspires to pursue a modelling career in London. Wanting to impress his newfound crush, Conor impulsively asks her to feature in his band's music video, even though he does not actually have a band. Putting the word out, Conor and pal Darren (Ben Carolan) rapidly put together a "futurist" group, and their first original song is enough to entice Raphina to join their music video exploits. Conor falls more and more in love with Raphina, but she is dating an older man (Peter Campion) and still intends to follow her dreams by leaving Dublin.
A semi-autobiographical depiction of Carney's upbringing,
Sing Street
initially concentrates on the formation of the band, who are unsuccessful at producing covers but truly soar when they begin dabbling in original compositions. Visibly drawing upon Carney's real-life experiences, scenes involving band meetings and practice sessions are reliably funny and endearing, while the boys' music video shoots feel natural and authentic. Additionally,
Sing Street
is coloured with the culture of 1980s Ireland - it even begins with a news report about the increasing number of Irish immigrants travelling to London, with the challenging financial climate a key plot point in the film. Hell, in a reflection of Ireland's casual racism, Conor and Darren even recruit Ngig (Percy Chamburuka) simply because of his dark skin, innocently assuming that his race means he knows music. Meanwhile, the characters' big ambitions and blind zeal are almost universally relatable, giving
Sing Street
a similar tone to the likes of
Son of Rambow
. Likewise, Conor styling himself after his favourite musicians is equally relatable.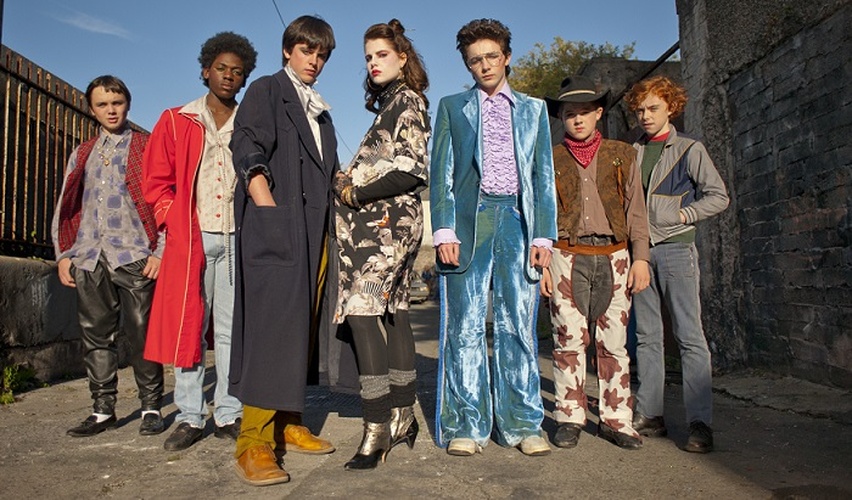 Carney's music selection is laudable, as the writer/director sources tracks from The Cure, The Clash, Depeche Mode, Duran Duran, The Jam, and Hall & Oates to solidify the movie's evocative sense of time and place. Plus, even within the restrictions of a meagre $4 million budget, the recreation of Dublin in 1985 is perpetually convincing, down to outrageous fashion choices which provide a few hearty laughs. Further elevating Sing Street are the original compositions, with Carney enlisting the help of Danny Wilson frontman Gary Clark to co-write several catchy, authentic-feeling new tracks. (Even Maroon 5's lead singer, Adam Levine, co-wrote and sang the original song "Go Now" for his contribution to the soundtrack.) Moreover, this charming creativity goes beyond the songs themselves, as the boys produce some amiable music videos inspired by the era's popular bands. Another moment involves the band singing "Drive It Like You Stole It" to a Back to the Future-inspired 1950s prom fantasy sequence in their high school auditorium. These fantastical touches pepper Sing Street, leading to a somewhat optimistic ending which is wholly in keeping with the story's fairy-tale/music video elements. Indeed, Sing Street often feels like a pop video in terms of narrative, a deliberate instance of intertextuality to further pay tribute to the era's popular music.
The romance between Conor and Raphina is not exactly groundbreaking in terms of the details, but the relationship blossoms thanks to sensational performances from newcomers Walsh-Peelo and Boynton (the latter of whom later co-starred in 2018's
Bohemian Rhapsody
). The two actors are charismatic and instantly likeable, while their chemistry is palpable whenever they share the screen. The performers imbue the feature with genuine heart and depth, resulting in an on-screen relationship which never feels contrived or unearned. Moreover, Raphina is more than just the object of Conor's desires, and she does not spend time with the boys out of sheer pity - instead, she instantly takes a liking to the group, and greatly contributes to the music videos. Jack Reynor is another standout as Conor's brother, Brendan. Carney happily avoids the hoary stereotype of a patronising/unsupportive brother, instead building a positive relationship between Conor and Brendan. The insanely talented Reynor delivers some of the film's sharpest dialogue, emanating both melancholy and levity, which turns Brendan into a genuinely three-dimensional character. Another surprise is Ian Kenny as the school bully, Barry. Although an unsympathetic character on the surface, the script gives Barry unexpected dimension, which effectively humanises him. It's a fantastic cast all-round, with veterans Aidan Gillen and Maria Doyle Kennedy also bringing gravitas to the material, while the younger actors hit their marks with confidence at every opportunity.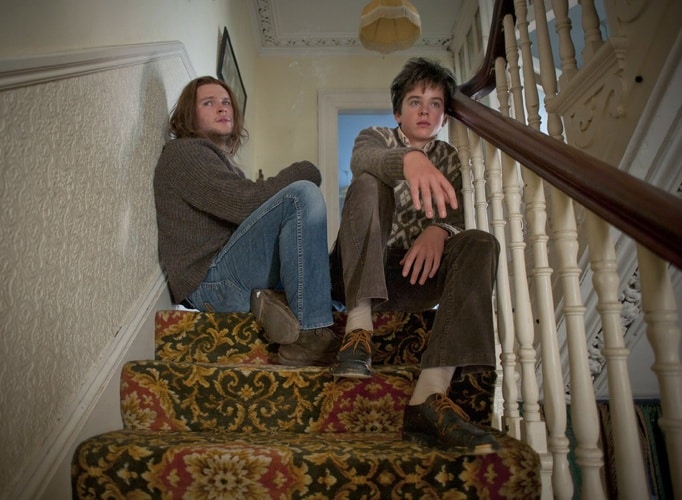 Wisely, although Carney does not shy away from the story's dramatic elements, this material is not lathered on; instead, he displays tact, and foregrounds the music and romance. Certainly, Sing Street could have further explored Ireland's hardships in the 1980s, but it's not about such drama - rather, this is a story about Conor and Raphina, and, as a result, the film never feels like a chore to get through. Going on to earn a Best Picture nomination at the 2017 Golden Globes (but losing to La La Land), there is much to love about Sing Street, which is arguably Carney's finest achievement to date. Admittedly, the romantic and coming-of-age elements are familiar, but the execution is more important for this type of production. And luckily, Carney elevates his robust screenplay with a winning cast and an excellent soundtrack, making this one of 2016's most pleasant cinematic surprises. Sing Street is legitimately funny, sweet, involving, and full of infectious tunes.

8.6/10